I love, love, love homemade frosting. My all-time favorite is my sisters amazing homemade buttercream. It's not like any buttercream you have ever tried. (She owns a cupcake business- find her on Facebook, Riverbanks Cupcakes).
However, I don't always have access to this mouthwatering frosting so when my birthday came around, I opted for a "healthier" cake (this baby weight sure isn't just falling off like with the other two!).
Angel Food with Pineapple Fluff Frosting. The frosting is ridiculously easy and goes perfect with homemade angel food cake.
I used the Betty Crocker Angel Food cake recipe, which I will include at the end. Just make the darn cake, it's so much better than store-bought! Or buy store bought… I won't judge.
Sorry, no "process" pictures but I think y'all can handle it. And… we ate some before I snapped pictures…. but not before I was serenaded with the "Happy Birthday" song!
Hold your hat. Here we go.
Take whipped cream, a can of crushed pineapple, and a box of for the love of Pete, not sugar-free instant vanilla pudding.
Mix them together.
You are done. Seriously. That's it! I do let it sit in the refrigerator for 5-10 minutes or so before frosting, it helps it set up a little better. Then frost your cake! Yum! Super good and really not terrible for you. Not necessarily good, but much better than a whole pound of butter and cups of sugar (but man is that frosting good!!).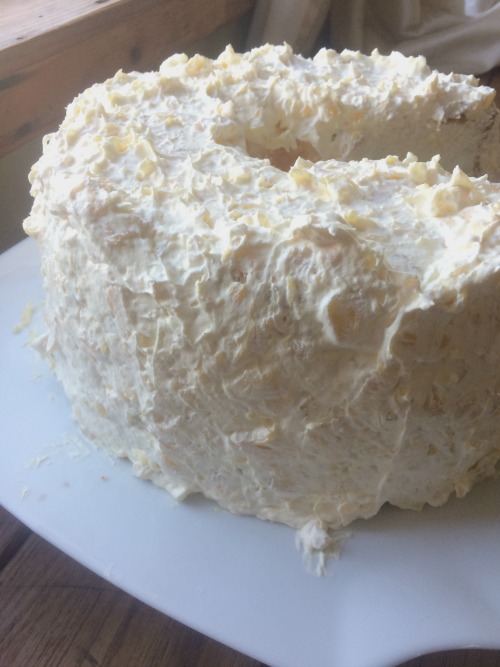 Pineapple Fluff Frosting
1- 8 oz tub thawed whipped cream (even better with homemade whipped cream!)
1- 20 oz can crushed pineapple (if you don't have crushed, throw it in the blender/food processor for a bit before adding to the frosting)
1- 3.4 oz box instant vanilla pudding
Mix all ingredients together. Put in refrigerator for at least 5-10 minutes to set up. Frost cake. You can use this on any cake, it's particularly good on Angel Food!
Angel Food Cake
Betty Crocker Recipe
1 1/2 cups egg whites (about 12)
1 1/2 cups powdered sugar
1 cup cake flower
1 1/2 tsp cream of tartar
1 cup granulated sugar
1 1/2 tsp vanilla
1/2 tsp almond extract (orange is delicious too!)
1/4 tsp salt
Let egg whites stand at room temperature for 30 minutes (or put eggs in warm water while gathering ingredients before you separate them). Room temperature egg whites will have more volume when beaten than cold egg whites. Move oven rack to lowest position. Heat oven to 375ºF.
In medium bowl, mix powdered sugar and flour; set aside. In large, clean, dry bowl, beat egg whites and cream of tartar with electric mixer on medium speed until foamy. Beat in granulated sugar, 2 tbsp at a time, on high speed, adding vanilla, almond extract and salt with the last addition of sugar. Continue beating until stiff and glossy. Do not underbeat.
Sprinkle powdered sugar-flour mixture, 1/4 cup at a time. over egg white mixture, folding in with rubber spatula just until the sugar-flour mixture disappears. Push batter into ungreased 10-inch angel food (tube) cake pan. Cut gently through batter with metal spatula or knife to break air pockets.
Bake 30 to 35 minutes or until cracks feel dry and top springs back when touched lightly. Immediately turn pan upside down onto heatproof bottle or funnel. Let hang about 2 hours or until cake is completely cool.
Loosen side of cake with knife or long metal spatula; remove from pan. Frost as desired.