Lavender Cherry Pie, sounds like quite the interesting combination, doesn't it? I have made soap from my dried lavender but haven't cooked with it, that is until my mother-in-law started raving about a Lavender Cherry pie she had bought. Since we were (literally) picking cherries as we were talking about this pie, I knew I would have to give it a try.
After some searching, I couldn't find any recipe that I thought sounded right for Lavender Cherry pie so I decided to make my own. The first attempt, I used one tsp of fresh lavender in the crust and one tbsp. of dried lavender in the pie. It was good, however I didn't feel like there was enough lavender taste. Using herbs, especially in baking, can be tricky as you don't want your recipe to come out tasting like pot-pourri.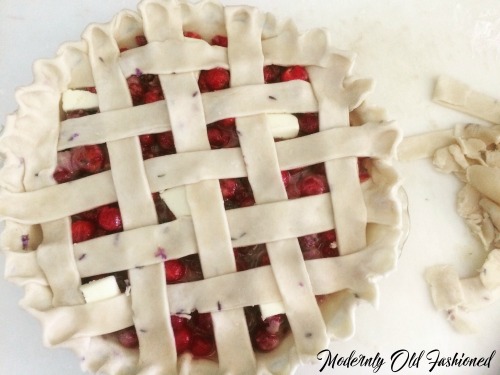 When I made the first attempt, I put my pictures on social media. Because of those yummy-looking shots, I was pressured in to entering my pie in an upcoming pie baking contest. This was at the fair where I spent 11 fun summers showing animals and projects through 4-H. It was fun to be a part of that fair again and my boys were so excited! William asked me what would happen if I got "Chopped" Ha!!
The contest was coming up quickly and I didn't have time to make another trial run pie so I crossed my fingers and hoped this recipe would turn out okay!
13 beautiful, unique pies were entered in the contest. Four different categories; savory, double crust, unique, and fruit. I entered mine in the double crust category and WON! Okay, I was the only one entered in that category… 😉 Of course I wanted to win, however since I hadn't even tasted the final recipe I was just hoping it didn't taste like a bouquet of flowers!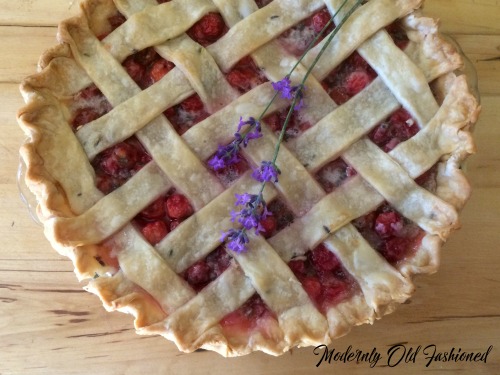 Next came the final judging, the top pie from each category went on to see who was the overall winner. I thought for sure I'd be #4 since I got into the finals by default. However, I was pleasantly surprised when I took second place! A lovely Apple Lingonberry pie won the contest. There were so many wonderful looking pies, I think next year I'll sign up to be a judge ;).
I found dried lavender worked best in this recipe. I didn't have enough dried from last year so I ended up having to quickly dry some. Usually I hang bunches of lavender in my kitchen to dry but since I was pressed for time, I used my oven. Turn your oven on as low as it can go, lay the lavender out on a parchment covered sheet pan and check them every 5 minutes (keep the door to the oven ajar), it took about 15 minutes to dry.

Dried lavender can also be purchased online. Look for organic dried lavender such as, Starwest Botanicals Organic Dried Lavender Flowers Extra Grade, 1 Pound (affiliate link).
Lavender Cherry Pie
Crust
2 cups plus 2 tbsp. flour
1 tsp salt
2/3 cup cold shortening or lard
6 to 8 tbsp. ice cold water
1 tbsp. dried lavender
Filling
1 1/3 cups sugar
1/2 cup all-purpose flour
2 tbsp. cornstarch
1 tbsp. dried lavender
6 cups fresh sour cherries, pitted *see tip at end of recipe
2 tbsp. cold butter
Extra sugar for sprinkling, if desired
To make the crust:
Combine flour, salt, and lavender. Cut in shortening with a fork or pastry blender until your mixture resembles small peas. With a fork, toss in 1 tbsp. of water a time until the dough begins to leave the side of the bowl. Form pastry into a ball and then divide in two, flatten slightly and wrap in plastic wrap. Cool in refrigerator for at least 45 minutes.
Filling and Assembly:
Preheat oven to 425ºF
After dough has chilled, roll out one half of pastry on a lightly floured surface. Roll into a circle roughly two inches bigger than your pie plate (11 inches across if using a 9 inch plate). Place pastry into pie plate. Press into bottom and along sides, being sure not to stretch the pastry.
In large bowl, combine the sugar, flour, cornstarch and lavender. Stir in cherries (remove any liquid first). Pour cherry mixture into prepared pie crust.
Cut butter into small pieces, sprinkle over cherries.
(Lattice top) Roll out second half of pastry to roughly the same size as the first crust. Cut the pastry into 1/2 inch wide strips. Place half of these strips roughly 1/2 inch apart. Weave remaining strips evenly over and under the first set of strips. Flute edges and trim crust. Sprinkle extra sugar on top if desired.
To make an easy lattice top, lay the second set of strips evenly over the first set, no weaving involved. Flute edges and trim crust. Sprinkle extra sugar on top if desired.
Carefully place in oven, use a sheet pan on the bottom rack of the oven to catch any spills. Bake at 425ºF for 10 minutes. Lower the temp to 350ºF for 40 minutes or until crust is browned and filling is bubbly.
Remove from oven and place on cooling rack. Cool fully before cutting, at least 2 hours.
If using fresh cherries, pit at least 6 hours before using in the recipe. Allowing them to rest will help them release some of the juices and the pie will not be as runny. If using frozen cherries, be sure to thaw and discard any juice before adding cherries to recipe.