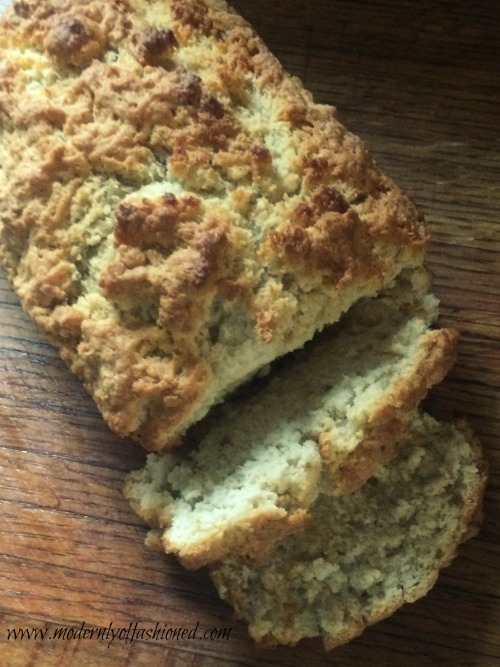 I love bread, I'm sure I've said that before. It's one of my weaknesses, especially when its freshly homemade and then add the butter…  c'mon….  There are many times that I want a good crusty bread with dinner but just don't have the time to run to the store or make a yeast bread. Beer bread is a perfect batter bread to mix up on those days. This recipe is very easy to whip up and you, most likely, already have all the ingredients on hand.
Beer bread is soft and moist with a delightful crunchy crust. It goes perfectly with soups and stews and chicken and fish and…. well, everything. You can use any beer you have on hand, experimenting with different beer flavors is fun! This does not taste like beer, it just has a little 'hoppy' undertone. It also pairs very nicely with a sweet honey butter…. yum!
I made this last night to go with my Crockpot Lentil Soup. Not only did my soup take minimal effort and cooked to perfection all day, this bread recipe took me 5 minutes to mix up and pop in the oven. A nice thick piece soaks up the soup perfectly and doesn't fall apart when you go to eat it.
Enjoy!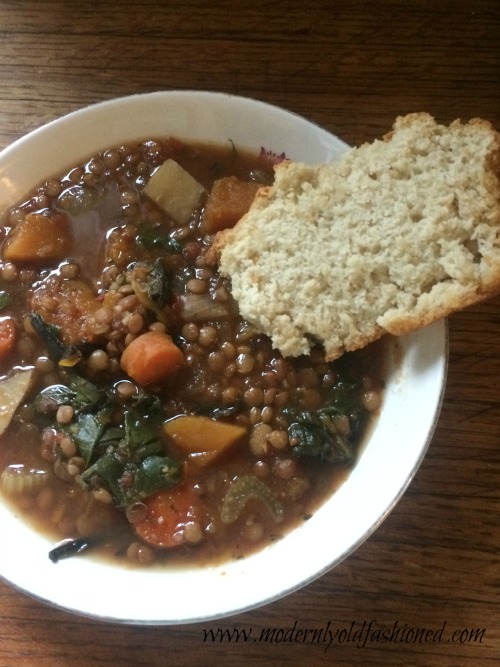 Beer Bread
3 cups sifted flour
3 tsp baking powder
1 tsp salt
1/4 cup sugar
1 (12 oz) can beer
1/4 cup melted butter
Preheat oven to 375ºF
Mix dry ingredients and beer.
Pour into greased loaf pan, be sure to push batter into corners.
Pour melted butter over batter.
Bake for 1 hour, remove from pan and let cool for 15 minutes.