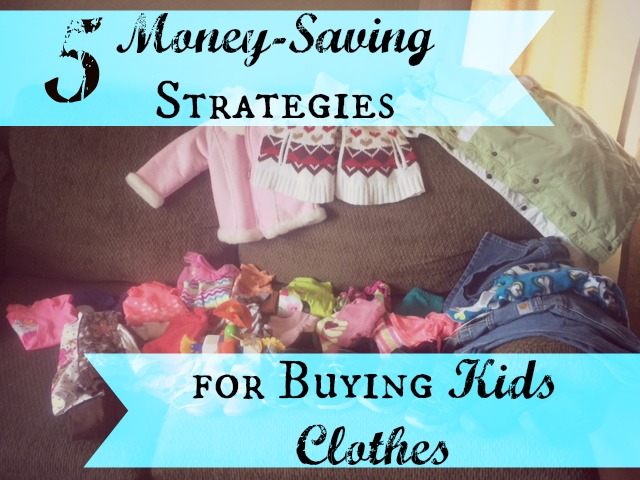 Kids go through clothes at an alarming rate. As soon as it seems that you have everything together- the kids have what they need, they are (relatively) clean and not full of holes- they out grow them. And its even worse for babies. Babies are only in a size for a few weeks to a few months before you need to move over to a new size. Not to mention the brands that run small (or big), it seems like I'm always switching clothes around!
With that in mind, it really is silly to buy brand new clothing. At least for my budget-conscious mind. I cant fathom having to run out and purchase a brand new wardrobe for my boys every year (if their clothes even make it that long) or every couple months for our daughter. Don't get me wrong, I love to shop! Thankfully though my mother instilled in me from a young age to never buy clothes full price, look for sales and clearance items. Even that can be pricey though!
So what do you do as a parent with kids who need clothes but you don't want to (or can't) pay full price?
Don't be too proud! I am fortunate enough to have friends with kids that send us hand-me-downs and I'm so grateful for them! I practically clothe all of my kids in handed down (or borrowed) clothes. There is nothing wrong with taking things that others give you. I do go through them and weed out some clothes that just don't work but then I donate them to the local St. Vincent de Paul. Boys, however, are pretty rough on their clothes and I will not allow my kids to wear jeans with tears/holes to school (we have a dress code anyways) or anywhere (usually) except the house. So we do have to usually buy jeans.
Shop sales! As mentioned previously, when I do shop in the store I only shop sales and clearance racks. Okay, occasionally if I need something specific that isn't on sale, I buy full price. But it is not easy for me to do that- I've really trained myself to not even look at full priced racks. Coupons or discount cards are great too! Do everything you can to save at the register! That doesn't mean stock up on store credit cards though. Unless they have 0% interest and you are diligent about paying them off, you wont save any money in the long run. You will end up spending more.
Make a cash clothing budget. (This is one I don't currently do but I need to instill.)  A friend of mine was telling me about how their family has a monthly clothing budget. They do the Dave Ramsey envelope system- another thing my husband and I want to try out. If they don't use it that month, it just rolls over into the next month. So whenever they need something, they have the money and a set spending limit. Also, when using cash, you are more likely to stick to your budget.
Garage Sales! This is my favorite! I'm a garage sale junkie! Even talking about the upcoming garage sale season gets me giddy! You can find some amazing deals on clothes and shoes at garage sales for a tiny fraction of what you spend at the store. You need to know your prices though to avoid spending $3 on a used Wal-Mart brand onesie that you could have purchased brand-new on sale for the same price. Some people over price their items but don't let that discourage you, for the most part people are good about reasonable pricing. Plus, if you buy a lot of items you can haggle down your total. You will never know if you don't ask and most people just want their stuff gone so they will be more than willing to knock off some change for you!
Consignment stores and sales. Another favorite of mine! We have an awesome local baby, kids, and womens consignment store, Recycled Sally's, in Baraboo, WI. Not only can you find some ridiculously awesome deals, you can also take your (gently) used items there to consign and make a little extra dough without all the hassle of doing your own garage sale. I also love to sop local consignment sales. Actually, that is what inspired this post. This past weekend, my sister, my best friend, and I went to a Green Whimsy sale and came out with some amazing deals! Consignment sales work just like a huge garage sale/consignment store combination. People register to sell their items, tag them, and drop them off. All of their stuff gets sold for them (its typically a 2-3 day event) and they get a percentage of their sales. I've sold with them before and it was definitely worth it! This one was about an hour drive for me so I only went to the last day, half-priced day. I get even more excited when I find a good deal and get to take half-off of the listed price! Of course, there isn't a full selection of items since they have been picked over but, as I told the lady at the register, if it wasn't there then it just wasn't mean to be. I didn't urgently need anything specific so shopping only the half-off sale was just fine for me!
This was what I got in one hour of shopping:
1 women's like-new Columbia Jacket (heck of a deal- there wasn't any other adult clothing at this sale so I think that people overlooked it, thinking someone accidentally left it)
1 like-new infants Oshkosh B'Gosh coat
1 infant knit poncho/shawl
1 pair boy jeans (I realized later they were actually girl jeans so I'll give them to a friend of mine and I know they will come back to us for Loretta to wear when shes older!)
1 pair Carhartt boy overalls
1 pair (boy) footie pjs
2 pair (boy) tennis shoes
1 pair (boy) dress shoes
1 pair girls shoes
1 pull along wooden toy- I paid less than $2 for it and found out its a $60 toy when I got home!
4 onesies/rompers
3 baby t-shirts
2 baby pjs
2 pair baby pants/leggings
3 baby outfits
1 book
Total: $55!!!
I mean, come on. I couldn't have even purchased the women's jacket for $55 at the store! Because I do get so many hand-me-down clothes for our daughter, I only buy extremely inexpensive (like 50¢ cute onesies) or extremely adorable-can't-live-without things for her. Our oldest also needed new shoes (another thing they go through like hot cakes) for school but with less than 2 months left of the year, its crazy to buy him a brand-new pair! I was thrilled to find two pairs for $2.50 each! Yes they are used, but still in great shape- definitely appropriate for school. I was also super proud of myself that I didn't buy any cloth diapers! *Pat myself on the back*
You work hard for your money and just because you may have it, doesn't mean you need to spend it. We have a one-income household so it is super important for me to spend the money my husband makes wisely. It's such a gratifying feeling to know you got a good deal. You can take the money you saved and put it toward something else (a bill perhaps) or save it!
What are your favorite ways to get good deals on clothes (or other items) for your family?