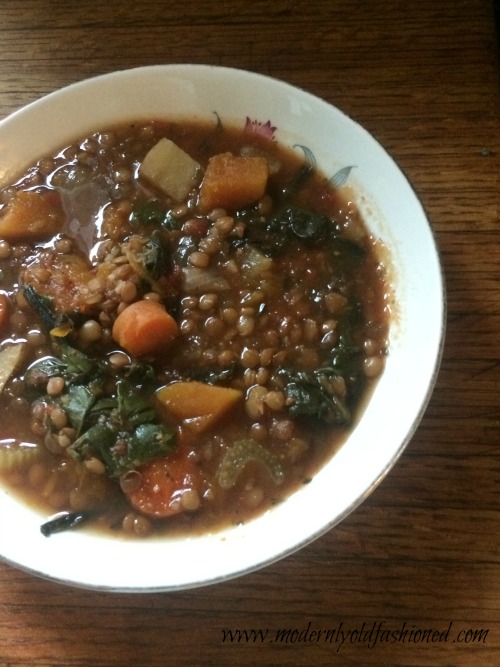 Is there anything more comforting than a delicious warm bowl of soup on a cool, rainy evening? What is even better is this Crockpot Lentil Soup practically makes itself all day long while you are at work or busy at home. If that is not enough to convince you- it's also extremely healthy but not boring like other "healthy" recipes! It's loaded with great-for-you ingredients that will help naturally detoxify your body and it tastes amazing!
Lentils are a wonderful "super food". Packed full of iron and fiber (as well as a host of other essential nutrients), they are great for your heart as well as your waistline. They keep you full longer and are virtually calorie free! It's no wonder they are a staple ingredient in many parts of the world. The lentils together with all the delicious vegetables, makes this one nutrition-packed meal indeed!
I absolutely love this soup. Definitely ranks as one of my top 5 soups ever. It is rich, hearty, and so flavorful. This recipe makes a ton and is very economical to boot! The flavor deepens as it sits- eat it tonight and have amazing leftovers for lunches all week. You could also freeze the leftovers, either in individual portions or in large gallon freezer bags.
Enjoy it with a nice slice of crusty bread. If you are in a pinch and need something easy and quick, my delicious beer bread recipe is wonderful with this soup and cooks up in an hour.
Crockpot Lentil Soup
2 cups peeled, cubed butternut squash
2 cups peeled, cubed carrots
2 cups chopped celery
2 cups peeled, chopped potatoes/sweet potatoes
2 cups dried lentils
1 medium onion, chopped or 2 chopped leeks
2 quarts beef (vegetable/chicken) broth
1 quart diced tomatoes
5 cloves minced garlic
2 tsp herbs de provonce seasoning (or Italian seasoning)
1 tsp salt
2 cups greens (kale, swiss chard, beet greens, etc), chopped (optional)
1/2 c red wine
In a large 6 quart crock pot, add all of the ingredients except the greens and wine. Cover and cook on low for 8-10 hours or high for 4-6 hours. About a half-hour before you are ready to eat, remove 2 cups of the soup and put in a blender or food processor. Blend until smooth and add back to crock pot. Add greens and wine. Cook until greens are wilted. This soup just gets better and better as it sits- the leftovers are amazing all week long!