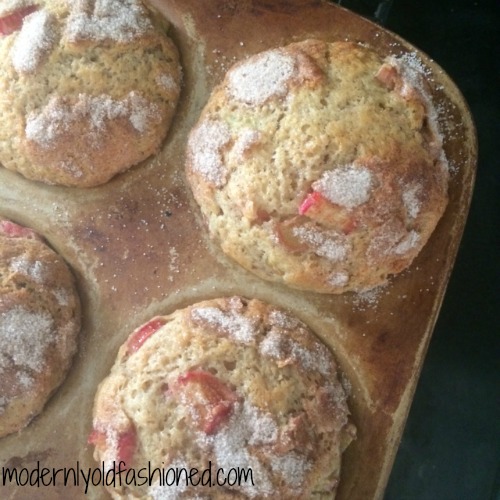 Rhubarb season is always so much fun, one of the first crops of the year in Wisconsin. Rhubarb has such a unique tart flavor that pairs so well with sweet in desserts, jams, fruit toppings, etc. Mike is not a fan of rhubarb however and threatens to mow over the bushes every single year. No worries, he knows better :). For a few years I didn't make much with our rhubarb because I knew I'd be the only one eating it and with my sweet tooth, its never a good idea to make a dessert (or anything) just for me. It will only be a couple days before I've devoured the whole thing!
Thankfully our boys have acquired the taste for rhubarb so I'm able to make recipes again!
William and I picked quite a load of they yummy vegetable (really-its a vegetable!) a couple of days ago. I made some delicious jam yesterday (recipe to come soon!) and this morning I decided to try out this muffin recipe.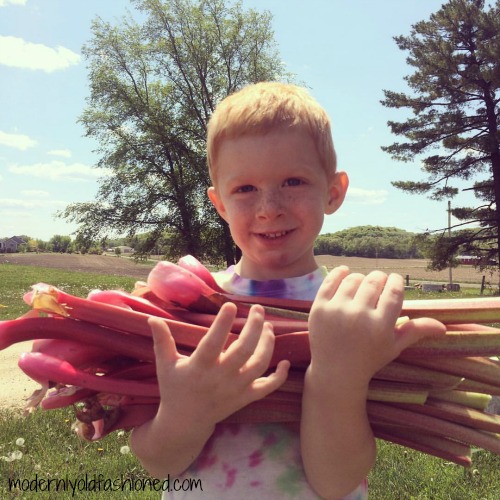 It is absolutely mouthwatering. So incredibly light, fluffy, and moist. The perfect amount of tartness from the rhubarb and not too sweet. Heavenly indeed. Bonus: very easy to whip up as well! I had these in the oven in no time!
I enjoyed them, peacefully, (boys were inside fighting- I mentally blocked them out) on the deck with a nice cup of coffee this morning. A perfect start to a gorgeous spring day!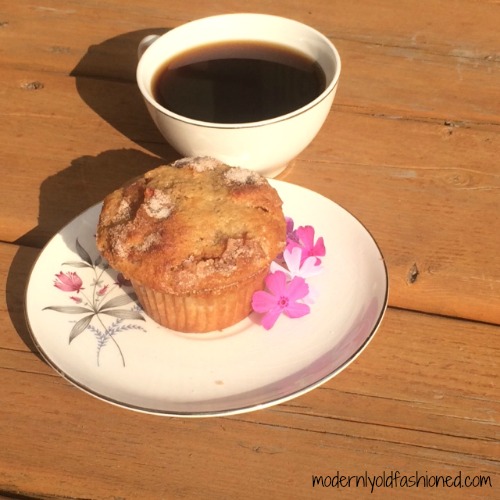 Rhubarb Muffins
2 cups flour
3/4 cup granulated sugar
2 1/2 tsp baking powder
1 tsp ground cinnamon
1/2 tsp baking soda
1/2 tsp salt
1 cup plain yogurt
8 tbsp. butter, melted
2 large eggs
1 tsp vanilla extract
1 1/2 cups diced rhubarb
Topping:
3 tbsp. granulated sugar
1/2 tsp ground cinnamon
Preheat oven to 400ºF. Prepare 12-cup muffin tin with cupcake liners.
Mix together the flour, sugar, baking powder, cinnamon, soda, and salt.
In a separate bowl, mix the yogurt, butter, eggs, and vanilla until thoroughly combined. This is essential as you do not want to overmix when you add wet and dry together.
Add the wet ingredients to the dry and combine only until just incorporated. The key to fluffy muffins is to not overmix!
Fold in rhubarb.
Scoop batter into prepared muffin tins, be sure to mound the batter above the height of the cupcake liners. You may need to push the batter into the sides of the cups as this batter is thick.
Mix the cinnamon and sugar for the topping and sprinkle evenly over the batter.
Bake for 18-20 minutes or until toothpick comes out clean.
Cool for 5-10 minutes before removing from cupcake pan. These are best when eaten warm!