Make it a power-packed one!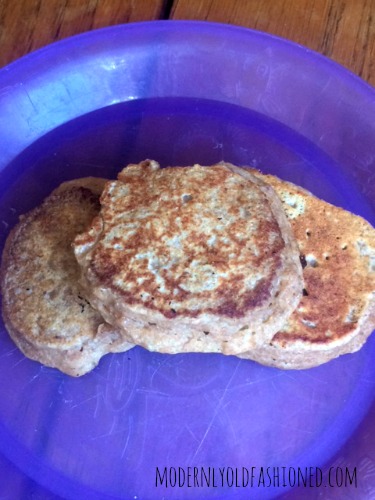 Making baby food is a really fun part of the baby-stage. Loretta loves to eat and I've made countless healthy pureés for her. Lately though, at 10 months old, she loves to feed herself and eat everything we are eating.
Sundays are pancake mornings in our house so I decided to make up some baby-friendly (i.e. packed with tons of good-for-you stuff) pancakes for Little Miss. I used my "Power Flour" recipe to increase the health-factor of these yummy pancakes- adding some simple ingredients to whole wheat flour can really boost the nutritional value of your recipe!
Thus, the Power Packed Pancake was born!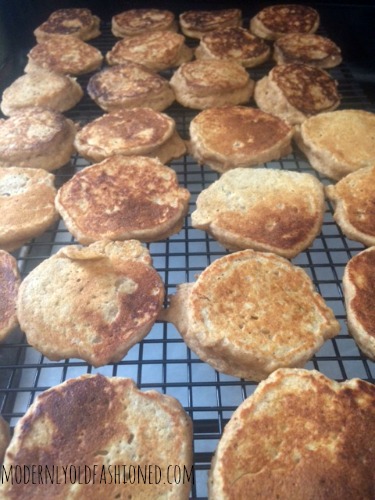 Needless to say, they were a hit!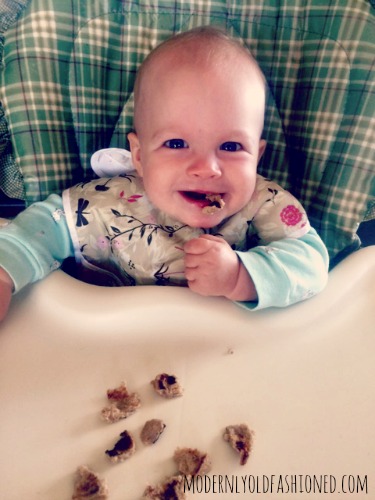 Because who has time to make teeny-tiny pancakes every morning, I made a large batch of these super-healthy pancakes and flash froze them. Once frozen, I placed them in a gallon zipper bag and now a couple of these with some fruit is one of our go-to breakfasts! Just pull a few out and warm up in the microwave (20 seconds individually) or oven/toaster oven (325ºF for 7-10 minutes) and you have a delicious and nutritious breakfast for your baby or toddler!
If you give your baby a Power Packed Pancake… she will want another… and another….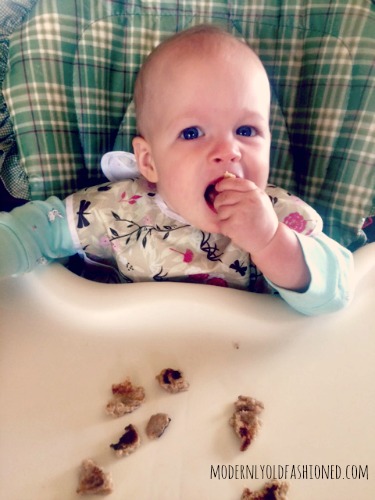 **Be sure baby is able to grasp food and has experience feeding him or herself before giving Power Packed Pancakes. I prefer to cut (or tear) them into small pieces so Loretta doesn't accidentally take too big of a bite.
Power Packed Pancakes
2 cups power flour *see recipe below*
2 tsp baking powder
1 tbsp. ground flax
2 lightly beaten eggs
1 cup milk
1 cup plain yogurt
2 tbsp. apple sauce (or melted butter)
Mix all ingredients together until incorporated. Cook on stovetop or on griddle as you would any other pancakes, just make them smaller- silver dollar size. This makes a thick batter so you may have to spread it out a bit with the back of a spoon so the middle cooks evenly.
Once all pancakes are cooked, place in a single layer on a cookie sheet and freeze. Once frozen, place in labeled gallon-sized freezer bag.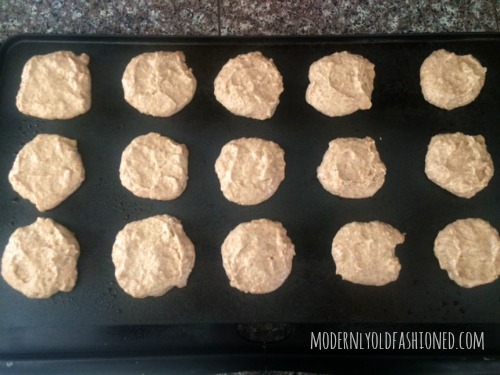 Power Flour Recipe
For every one cup of flour needed in a recipe, place 1 tablespoon wheat germ and 1 teaspoon brewer's yeast in a one-cup measuring cup. Fill to the top with whole wheat flour. Use as directed in recipe.
*Whole wheat flour can be substituted in recipe in place of Power Flour if needed.