This post contains affiliate links. I may receive a small commission if you purchase from any links.
A refreshing cold drink is always welcome on a warm summer day! Sun-filled summer days always make me crave some delicious Sun Tea.  Although it isn't quite summer, today seemed to be the perfect day to whip up the first batch of the year.
Of course, this can be made any time of the year as long as the temperatures are above freezing. I, however, tend to only have a taste for it during the late spring/summer months.
Sun tea literally takes minutes to throw together and then you let the sun do the rest. This would be very simple to put together before work, let the sun work its magic while you are away, and come home to a beautiful glass of fresh tea!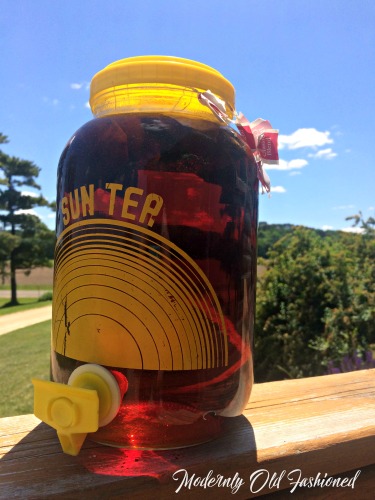 Its as simple as 1-2-3!!
Fill your container with water
Add tea bags
Secure lid and place in sun
You are done! Let your tea steep for at least 2 hours but it can really go as long as you would like. After it has steeped in the sun, add sweetener if desired (sugar, stevia, agave, honey, etc), pour over ice and enjoy!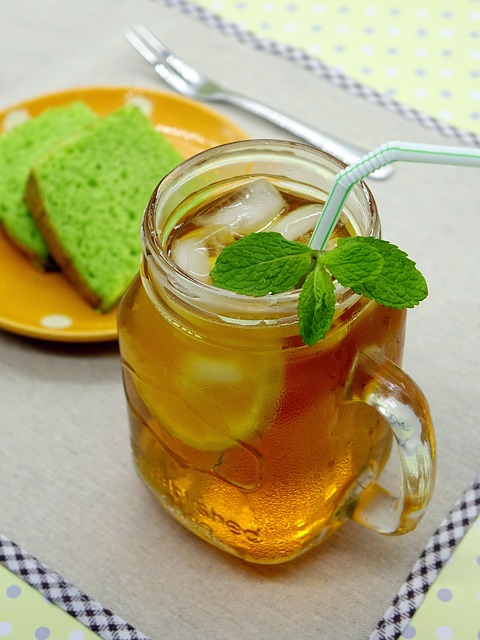 Choose your favorite flavor of tea or mix flavors to come up with new ones! I tend to be boring and use just plain black tea, sweetened with honey and garnished with lemon/mint. Simple works for me.
This recipe is for 1 gallon of sun tea. You can easily reduce or expand this recipe to your need. Just do the math on the tea bags- 8 per gallon. You may even find you like more or less tea, adjust the recipe as desired. This is a great starter and works well for me!
Any container works as well, as long as it has a lid. This is one my parents have had forever and passed it down to me, I love it! Here is a similar one on Amazon.
Sun Tea
gallon sized container (water jug, pickle jar, etc) with lid
8 tea bags
water
sun
Fill your container with water, almost to the top. Add tea bags, hanging string over the side of container. Secure lid. Place in sun for at least 2 hours. After tea has steeped in the sun, add sweetener in 1/4 cup increments to desired sweetness. Glasses of sun tea can also be individually sweetened when you pour them- be sure to add a little at first, until it is to your liking. Pour over ice and garnish with mint/lemon if desired.