Diaper Challenge Day 5
Todays topic is: Techniques/Performance: How You Make Flats Work For You… Read More »
Day 2 Flats and Handwashing Challenge Question…. Show us your stash and tell us what did it cost?
Here it is! Minus a cover and a flat that are on little miss!
I have….
26 cotton flats- $10 (great deal from a friend!)
1 Best Bottom cover- $1 (garage sale)
1 Nickis Diapers OS cover- $14.95
1 Nickis Diapers OS cover-  $12.00 (b/s/t)
1 Blueberry Capri OS cover- $12.00 (b/s/t)
1 Blueberry Capri OS cover- $14.00  (b/s/t)
1 Buttons OS cover- $8 (b/s/t)
2 snappis- Free
1 Bum Genius pocket (for our 4 year old- nighttime)- $1 (another garage sale steal)
Bucket/plunger system- $1 (for plunger)
Hanging wet bag- $5 (another deal from a friend)
Handful of cloth wipes- Free (scraps of fabric)
Total cost: $78.95
***If you look at my stash shot from yesterday, you will see one missing. I realized after I took that picture, I had a cover I paid less for and swapped it out- I didn't use that one at all. If I had thought of using my covers I paid the least for from the beginning I could have lowered my total price but I had already used some and I wanted the cost to be reflected accurately.
After the first day, I used three covers (could have gotten by with 2) and 9 flats (four overnight- two per kid). I definitely don't need this many flats but I wasn't sure how absorbent they would be or how many I would go through. I also didn't anticipate washing every day but I realize it will be easier to hand-wash a small load vs a larger one.
If you purchase all of these items brand new, yes you will be paying more. I, however, love a good deal and absolutely believe in buying used! Just think-  less than $80 will diaper one child through potty training!! That's like a couple months worth of disposables! I don't know how that alone doesn't motivate people!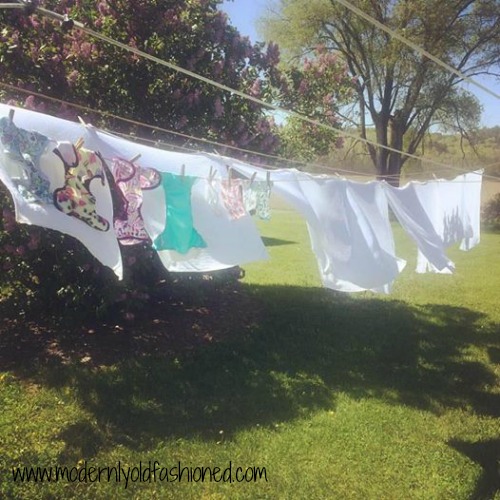 Day 1 Reflections:
Yesterday was great! I really didn't think I would like flats this much and I truly can't believe how easy and absorbent they are! So far my favorite fold is pad fold (heck, its easy-peasy) but I am getting the hang of origami and I like that one too. I only had one leak and that was after her long (3 hour) nap. It was a very minimal leak so I know if she had taken her normal 2-2.5 hour nap we wouldn't have had any leaks.
My stash of flats is way overkill but I wasn't sure how absorbent they would be so I changed her more frequently than normal. A couple times they could have easily been left on longer. I estimate I could have used one less. Today I will try going a little longer to see how well they hold up.
For nighttime, Loretta sleeps 11 ish hours so I needed something quite absorbent. I used an origami fold with an extra pad folded flat in the wet zone. It gave her quite the "large bum" look but she stayed dry all night!
So far, I am really enjoying this! I am already tempted to sell a large portion of my inserts stash because I realize how easy this really is. We shall see how the rest of the week goes :).