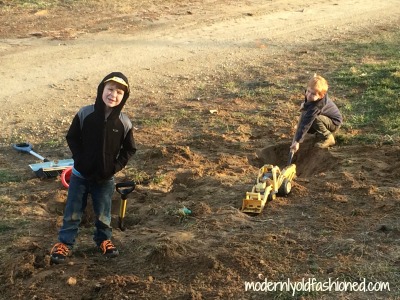 After a long (aren't they all?) winter, our boys were eager to get outside and get back to their adventures! I looked out the window the other day and saw them digging in the yard next to the deck. 18 months ago we replaced our septic system and we have had little luck growing grass back in this particular spot… Want to guess why?
I probably should have stopped them, but I didn't. I let them have their fun…"Mom, this is right where I have always wanted a pond!" said William. I sat back and watched their little imaginations work. They each came up with some pretty great ideas and helped each other along the way. The boys would stop and get SO excited when they found a rock or some other neat "treasure". (One being a buried tortilla… I really have NO idea how that got there….) These are the moments I *try to* cherish. Dirty hands, trashed clothes, big messes, bath time before dinner….. HUGE smiles.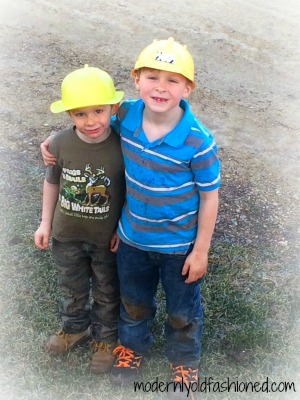 Eventually I did tell them that we would have to fill the holes back in. A pond next to the driveway and right above the septic line is not a very good idea. They were disappointed but they are having lots of fun putting the dirt back and I promised they would help us spread the new grass seed.
The boys wanted a pond but what they really wanted was the adventure of digging those holes with each other! I'm sure we will have many "ponds" and bare patches of yard in our future (especially when lil' sis joins in the fun)… but someday these little adventurers will be all grown. Our yard will be whole again and we will have less mud-caked laundry. All too quickly these moments will be a distant memory.