Oh gosh, here she goes, 5 minutes as a blogger and shes already trying to convince me that cloth diapering is SO much better…
Not at all, I am totally not "that" mom! Start talking to me about cloth and I'll have lots to say but I absolutely realize that cloth diapering is NOT for everyone-no judgment from me if you use 'sposies!
As an avid cloth diaper user and lover, I have heard countless "myths" or misconceptions arise when discussing cloth diapers with fellow moms. I have a feeling that some may be shying away because they have the wrong idea of how cloth diapering works. I tell ya, I probably would not be as excited about cloth diapering if I had to do it the "old-fashioned" route. In fact, it took a lot of convincing to get me to use them with our first child! He was over a year old before we made the switch. Modern cloth diapers have come a long way! Let me show you how!
1. Stinky soak buckets
These are a thing of the past. No longer do we have a soaking bucket filled with stagnant dirty diapers. There are a few options for storing your dirty diapers: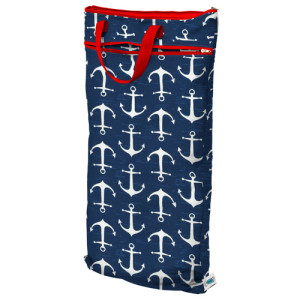 You hang this bag next to your changing station, in the bathroom, in your laundry room- wherever works best for you. They have a zipper closure and you just pop your dirty diaper in it (after rinsing-ill get to that), zip closed, and once full (or whenever you wash) you take to the wash. Toss the bag right in with your diapers. There are many different styles but all have a waterproof PUL material so there will not be any leaking. You will need at least two so you have one when the other is in the wash/drying. These come in all sizes, from small travel sizes for wipes and diapers to these large hanging ones. Wet bags are also great for keeping other items clean and dry.
Diaper pail with wet bag liner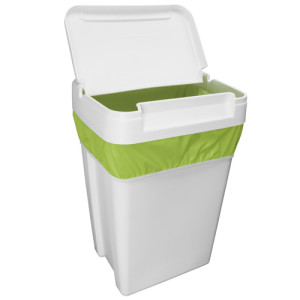 This can be any kind of commercial diaper pail (other than the diaper genie types) or even a garbage can. You then line it with a reusable wet bag (PUL again to prevent leaks) that has elastic around the top, works just like a throw away garbage bag. Many people leave the lid off of their diaper pail without any stink issues. Some prefer to cover. Whichever works for you,  use it the same way as the hanging wet bag, just toss it in with your diapers and put a new liner in.
2. "Ewww, I don't want to be handling poop."
Then don't have babies. Err… Yes, there is a little extra clean up when it comes to cloth diapers.  If your little one has a solid "turd" its easy to just plop it in the toilet. However, they aren't always like that. Thank goodness for these handy dandy new diaper sprayers that you can attach to your toilet very easily.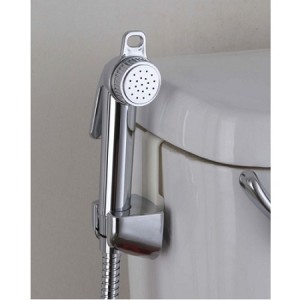 You take your poopy diaper (psst… breast milk is water soluble. NO need to rinse before washing! Woo-hoo!) to the toilet and spray any soilds off. To make this even less messy, you can use a shield so there is no accidental spray back or use a DESIGNATED cheap spatula to scrape it off. PLEASE label that sucker good. I shudder to think of it accidentally ending up in the kitchen. There are many tutorials online with instructions to make your own diaper sprayer if you are handy like that.
OR if that still doesnt win you over, you can get disposable liners to lay in the diaper. They are very thin and when baby poos you just take the liner off and flush or throw it away. I, personally, would not recommend flushing all of them as I imagine this could cause some plumbing issues, especially if you have a septic system. To be more economical, take some flannel or cotton fabric (receiving blankets work well) and cut into rectangles that lay in your diaper. That way you don't have to spray off the whole diaper.
3. LAUNDRY!
"I don't want any more laundry than I already have" or "Just think of how much water you are using by washing diapers! That can't be good!" "Don't you have to use special soap?"
Laundry is not a big deal to me, I dont mind doing it. Its not on top 10 list of things to do but its not as bad as washing windows. Seriously, though- if you have kids you understand, windows stay clean for all of 5 seconds in this house! Anyhow, one extra load of laundry a couple times a week (I typically wash my diapers every 3 days or so)… Eh, not a deal breaker for sure.  *Be on the lookout for my wash routine post!* If this really is a deal breaker, there are diaper services in some areas. They pick up the dirty diapers and leave you with clean ones. This comes with a price of course, but a reasonable option for those without laundry in their homes or the time for a couple extra loads.
As far as water usage. Yes, a diaper wash routine is longer than washing your clothes. Yes, it uses more water. Yes, disposable diapers waste 2-3 times more water than cloth. Wait…  What?! There are many environmental reasons that we use cloth and water is one of them! Its easy to forget that it takes lots of water to make disposable diapers and that amount of water adds up to WAY more than what is used to make and keep cloth clean.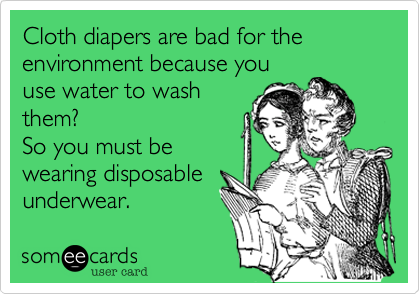 Back when I started cloth diapering, the recommendation was to use "special" cloth diaper detergent. I used many brands but never felt that they were as grand as they were hyped up to be. Lo-and-behold when baby #3 came into the picture, the standard has shifted away from those detergents to regular detergent (we use original Tide powder). Important to note- the detergent you use MUST NOT have any softeners in it! This will cause leaking issues! Also, powdered seems to work the best. And NO you cant use homemade detergent. Some people claim it works and it may for awhile but eventually you will end up with stink issues.
4. $15 for a single diaper! You have got to be kidding me!
Okay, okay. I admit it does seem a bit crazy to be spending upwards of $15-$20 PLUS on one diaper. I mean, how in the world is this going to be cost effective? If you figure that you will need a minimum of 20 diapers in your "stash", that would be around $400! However, there are multiple ways to cloth diaper cheaper and buying them used will also save a ton!
The $15-20+ diapers are on the higher end (AIO-AI2 styles), there are many other styles that cost significantly less. You can even go super cheap and use receiving blankets as flats and put a waterproof (PUL) cover over them. No matter which diapers you choose or how many you get remember, you will be able to use them until baby is potty trained! So dropping $400 on a stash of diapers isn't so bad when you figure it costs, on average, $600 per year to buy disposables. And, unless you are the luckiest parent ever, baby will not be potty trained after that first year! Don't forget, you can also sell those used diapers when you are done with them! Cloth diapers hold up extremely well and, although you wont get your full investment back, I can guarantee you wont get a single cent for any used disposable you try to sell!
Also, if you know your way around a sewing machine, there are tons of great (and free!) patterns to make your own online! This site has a bunch of great tutorials! Click here.
Besides, once the cloth diapering "bug" gets you, you wont blink at spending $15 on the cutest diapers ever and then smuggle them into your stash so your husband doesn't find out…. Wait, did I say that out loud?
*PSA- Cloth diapers can be addicting. Its a strange concept but totally true. There are so many cute patterns and colors. Its comparable to a shoe addiction… but only for a short season of your life! Don't say you weren't warned!*
5. I don't want to be sticking my baby with a pin! Cloth diapers seem like such a hassle to use!
Diaper pins are a thing of the past thanks to the amazing invention of the Snappi! This nifty little contraption has small plastic hooks on each end that secure the diaper in place without the need for pins! Much easier to use on a wiggly baby with no fear of accidental pokes! There is another, less popular, design called the Boingo. (Diaper pins are still around for those who want to use them).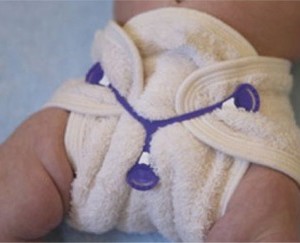 This is the "hardest" (it really isn't hard) way to cloth diaper because it has extra steps. Fitteds, prefolds, and flats all require a waterproof cover to go over the diaper. The other styles have a waterproof layer included.
The closures on all diapers (including covers) have evolved as well! If you can work a disposable, you can work a cloth diaper! Now with most brands you have the choice between snaps or Velcro. The Velcro is the most like a disposable diaper and is wonderful when your baby goes through the wiggly stage and doesn't want to lay still during diaper changes. However, Velcro does tend to wear out faster and can snag on your diapers in the wash. This doesn't affect function but can affect resale value. Many of the diapers are One Size (OS) as well. They have rise snaps that you can adjust to fit your baby from very little to potty training! No need to buy new diapers as baby grows!
As you can see, cloth diapers are not at all what they used to be. Pins and plastic pants are a thing of the past. Cloth has modernized to fit any lifestyle! However, there are a lot more choices and that can seem overwhelming. If you are interested in cloth and just don't know where to begin, please send me an email and I'd love to help out!
All of the product pictures on here are linked to the Nicki's Diapers website. It is a great company (local to me) that has everything you need to cloth diaper your little one! (I am not receiving any form of compensation from Nicki's Diapers for my reviews or links).