I am a sucker for corn dogs. They are not exactly healthy and a kids food but darn-it, they are tasty! They remind me of the county fair and summer… although I'm pretty sure I have never actually eaten one at a county fair… I'm way to cheap to spend $6 on a battered hot dog! I rarely buy frozen, processed foods but I cant deny I have stood over the freezer section at the store having an internal debate over corndogs, of all things.
For me, its not really the "dog" part of the corndog that I want. Its the "corn". I love me some cornbread! One day I had a hankering for corndogs so I got the idea to add some (turkey)dogs to my sweet cornbread recipe and bake it in my muffin tin. Delish! Not as convenient as the store version and admittedly doesn't have the crunchy "crust" on the outside but its quick, tasty, and I don't have to feel as guilty about feeding them to my kids! *Bonus, they are a great make-ahead freezer meal!*
Since I have only bought the nasty store version a few times, my kids don't have a taste for them. My corndog muffins on the other hand, they love! I realize they aren't the healthiest choice so we don't have them all the time but they sure are a yummy treat and a great recipe to have your kids help make!
Round up your ingredients.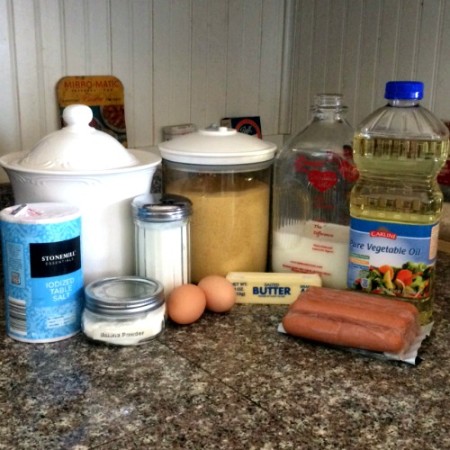 In a large mixing bowl, add flour, sugar, cornmeal, baking powder, and salt.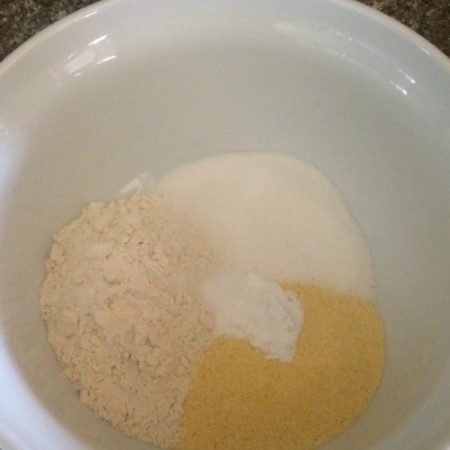 Mix well.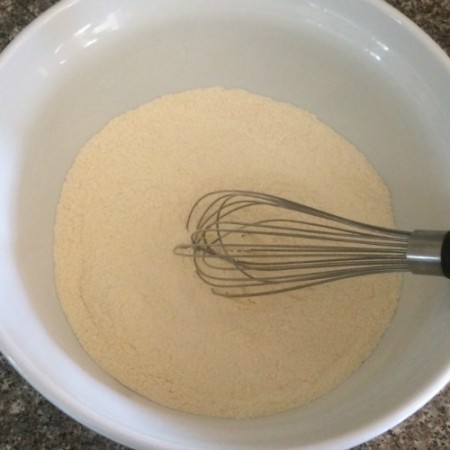 Because I hate making more dishes to wash, I don't combine my wet ingredients in a separate bowl. You can if you choose-I'm just lazy like that. I make a well in the center of my dry ingredients and add my wet ingredients. Mix them in the well and then incorporate the dry ingredients from the sides.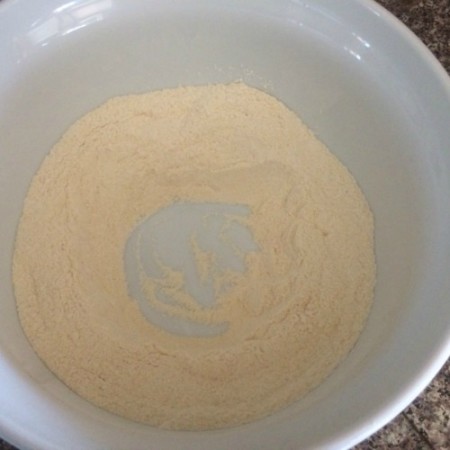 Do not over mix, just enough to combine.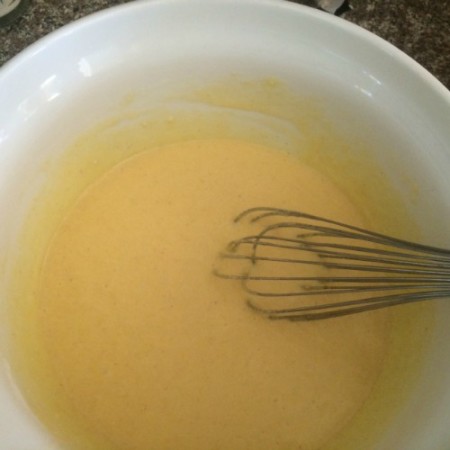 Add cut up hot dogs (you can adjust the size of your hot dog slices if you are making them for young kids).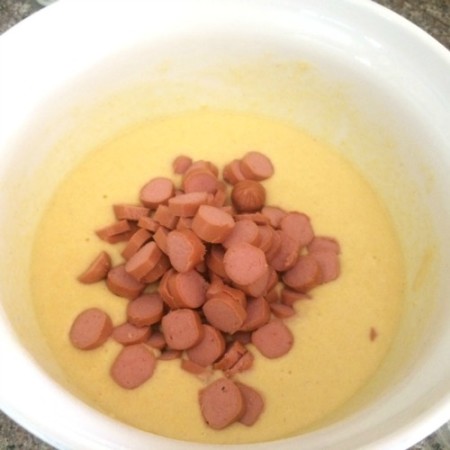 Fold in until just combined. Again, don't overmix.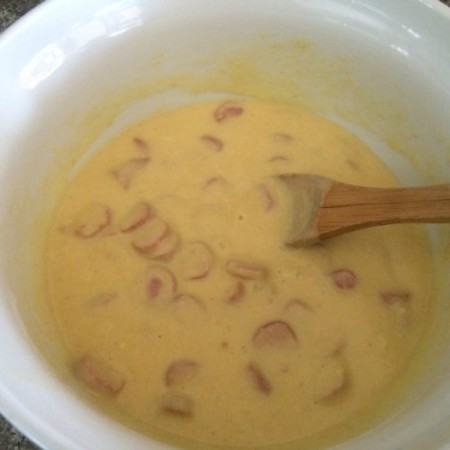 Scoop into a greased (or cupcake liner filled) muffin pan to 3/4 full. Be sure there are hot dog slices in each one! Clearly, my muffin stone has seen better days. First time I broke it, it conveniently separated right down the middle. The next time I broke one off. Its like putting together a puzzle every time I use it plus, I can bake just one cupcake if I want to! Quite ingenious if you ask me….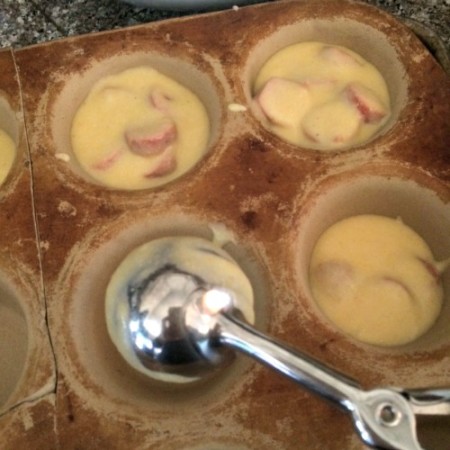 Bake in preheated 350ºF oven for 30-35 minutes or until starting to brown on the edges.
Let cool for 10 minutes before removing or they will stick to the bottom (even if its well greased).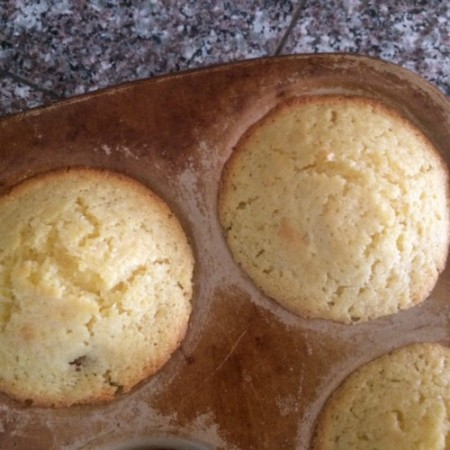 Add ketchup, mustard (or both!) and pretend its summer (we are currently have a lovely spring snow…)!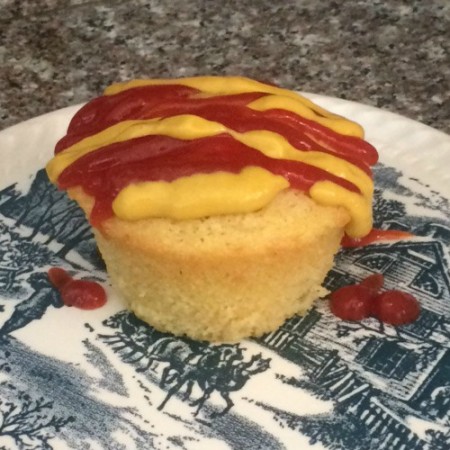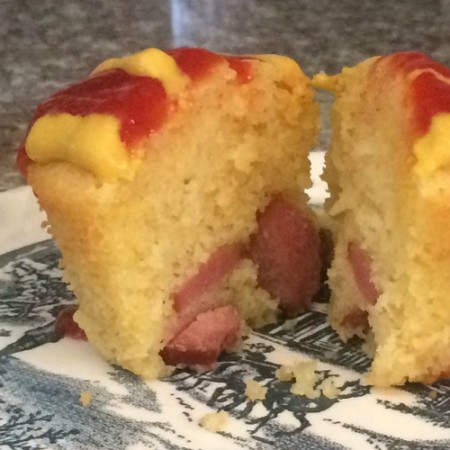 My kids get this from their dad. Cold hot dogs. Ew.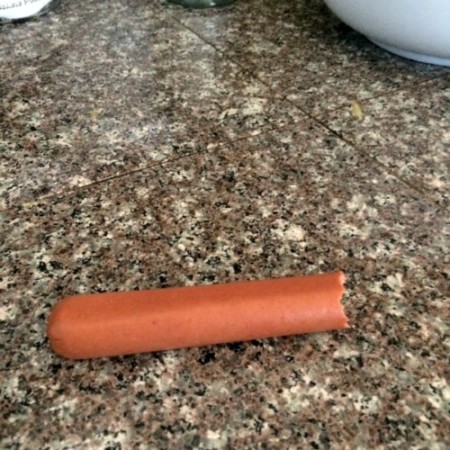 Corn Dog Muffins
1 1/2 c. flour
2/3 c. sugar
1/2 c. cornmeal
1 Tbsp baking powder
1/2 tsp salt
1 1/4 c milk
2 lg eggs, lightly beaten
1/3 c oil
3 Tbsp butter, melted
5 hot dogs (or turkey dogs)
Ketchup, mustard, pickle relish, etc. (optional)
Preheat oven to 350ºF. Grease muffin tin (or use cupcake liners).
Combine flour, sugar, cornmeal, baking powder, and salt in medium bowl. Create a well in center and add milk, eggs, oil and butter (be sure butter is slightly cooled so it does not cook your eggs). Mix wet ingredients in the well, trying to not get a lot of dry ingredients in the wet. Once combined, mix dry and wet ingredients together until just combined. Fold in cut up hot dogs.
Scoop into muffin tin, filling 3/4 full. Bake for 30-35 minutes until starting to brown on edges. Let cool on wire rack for at least 10 minutes. Carefully remove, add desired toppings and enjoy!
To freeze: After you have made the muffins, place them on a sheet tray and freeze (this is necessary unless you want one frozen blob of corndog). Once frozen, place in a gallon sized freezer bag and put back in the freezer. Just take out what you need and microwave for 1 minute to re-heat.