Day 4 of the challenge and I'm still going strong (despite this post being up late).
Challenge Question: "What is your washing routine?"
Originally, I had planned on setting up a "camp bucket" washing system. That is essentially a 5-gallon bucket, a lid with a  hole in the top and a plunger. However, I quickly found out that I can wash the diapers easily enough in my bathtub and I don't need to put a hole in any of our bucket lids (hubby wasn't so thrilled about that idea). If we do ever need one of these bucket systems (between the kids, the farm, and Mike's works schedule we rarely get away!) I can throw one together easily enough. We always have lots of 5-gallon buckets and lids and I'll make sure I label this plunger (cheap dollar store one) "diapers only".
I also thought I could wash every other day but quickly found out when hand washing, daily is better! Its much easier on your body to clean a few diapers vs a whole bunch.
*Sorry this isn't the most thrilling visual post. As you can imagine, there isn't much excitement when it comes to washing diapers!
First off, I *try* and rinse off any poop diapers right away but if I missed one, I make sure to rinse that off. Normally, I use my diaper sprayer on my toilet but in the spirit of this challenge I decided to do it the old-fashioned way, swishing in the toilet. Definitely prefer my diaper sprayer!
After rinsing off any poopy diapers, I toss them all in the bathtub for the first rinse. Make sure all of the flats are unfolded, they wont wash well if they are still folded up. I cover the diapers with cold water and plunge about 30 times, being sure to move the plunger all over so every diaper is well agitated.
Drain tub. Using the plunger, I push the diapers to the back of the tub and use the wall to push them against. This helps push out more of the water without having to use my hands since they are still dirty at this point.
Next, I sprinkle on about a tbsp. of detergent (I use Tide Original powder) and add hot water. This was also another thing I learned- you don't need a whole ton of detergent. The first load I used close to 1/4 cup and it felt like I as never going to get all of the soap out of the diapers! It is essential to get the soap out or you will have stink issues. I eyeball how much water to put in, trying to make sure there is at least a 1/2 inch over all of the diapers. Just be sure there is enough, you cant skimp on the water part. I then plunge about 90 times, again moving all over so all diapers get agitated. I also use the "bumpy" bottom of the tub to scrub the diapers against.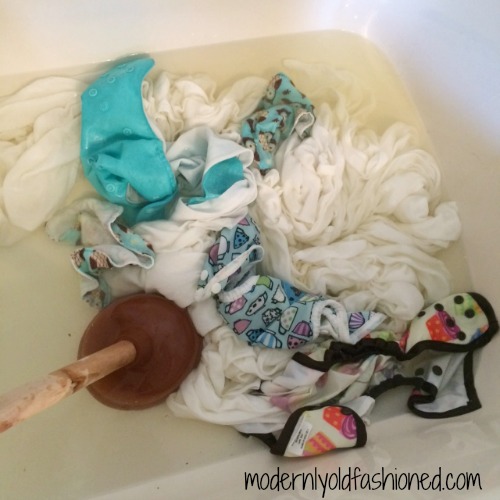 I then leave the diapers to soak. I try and go back to plunge every 15 minutes or so. Ideally, let them soak for at least 30 minutes but longer is even better. So don't worry if you get distracted and the diapers have been there for an hour!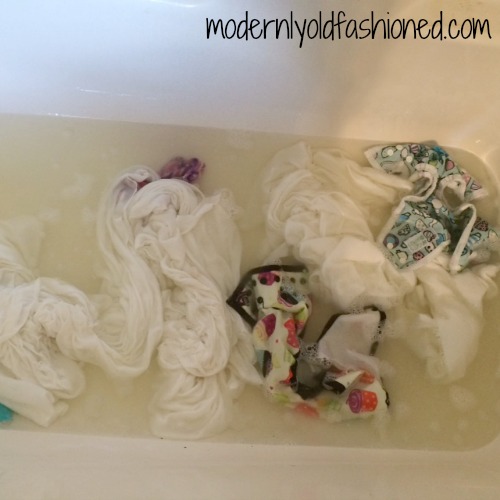 Once you feel the diapers are sufficiently cleaned, drain the water. Again, using the back of the tub to push out excess water.
After all the water is drained, I put on my gloves and rinse out each one individually (cold water). Originally, I filled the tub back up with water to rinse and then rinsed individually but this worked just fine and was one less tub-fill. After all diapers have been rinsed, fill the tub up again and plunge about 30 times to make sure all detergent is out.
Drain tub and wring out diapers.
Hang up to dry! I am so thankful that our unpredictable Wisconsin weather has cooperated during this challenge! It has been a gorgeous week and I've been able to put the diapers on the line every day! This fits in so well with my Unplugged: Dryer Challenge tool! 🙂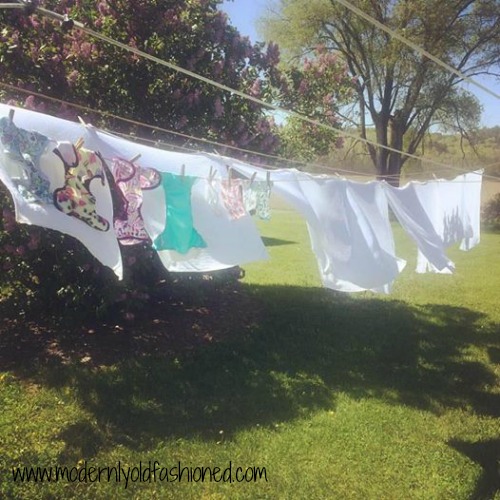 Handwashing is not my favorite pastime and I most certainly wont miss it once this challenge is over. No, it's not terrible but I much prefer tossing my diapers in the washing machine (and not having to wash every single day). I'm very glad I have done this though, I now have a greater appreciation for those who are only able to handwash!