It's day 6 of this week-long diaper challenge! I am so excited to show you what I have been working on for this Open Topic day!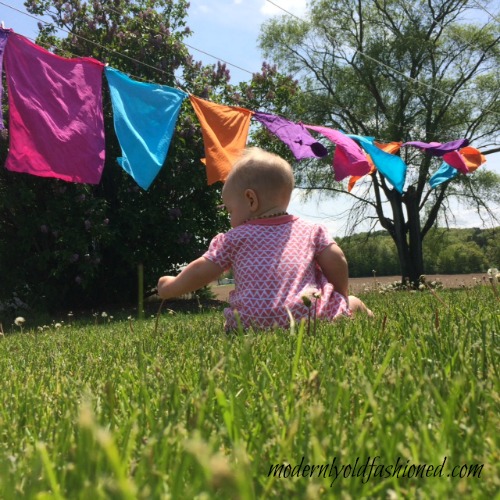 Dying Flats!
There is a simple pleasure in seeing the stark white flats hanging on the clothesline to dry, it definitely makes me feel a little more old-fashioned!
However, it is also fun to add color to our lives. Yes, these flats are covered up by a diaper cover but c'mon, how pretty are these?! I took 12 of my white flats and added a pop of fun and color to our diapering routine.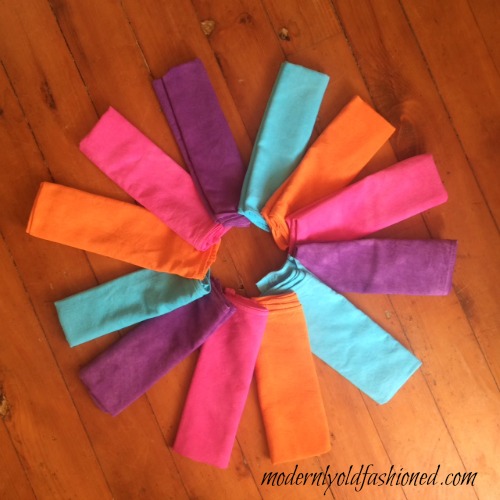 Plus, they really are quite inexpensive to do! One 1.75 oz package of Dylon dye was perfect for 3 flats. I paid $2.39 on sale for each packet at Joann Fabrics, so it ended up costing me about $0.80/each. William and I had a great time making these while his baby sister slept (thank you Loretta for taking an extra long nap that day- perfect timing!).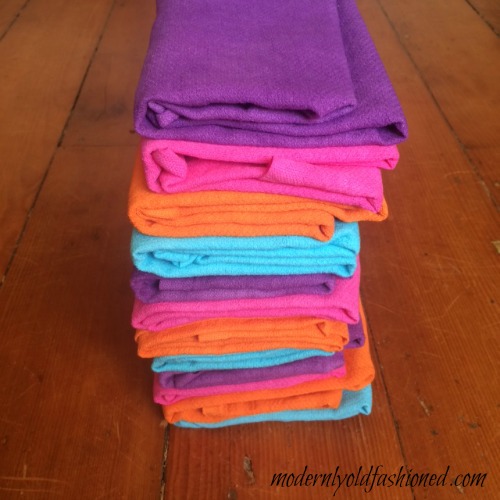 The colors that I used were "Deep Pink", "Goldfish Orange", "Bahama Blue", and "Deep Violet". I sort-of followed the directions on the back of the package. I couldn't continuously stir each bowl for 15 minutes at the same time and didn't have time to do these all separately so I skipped that step. I did keep them in they dye for a little longer to (hopefully) compensate. I also didn't have a choice but to hang them out in "direct sunlight"- seemed to be fine though! No they aren't absolutely perfectly dyed, they almost have a tie-dye look if you look closely but I like them how they are. What is perfect, anyway? They are perfect for us!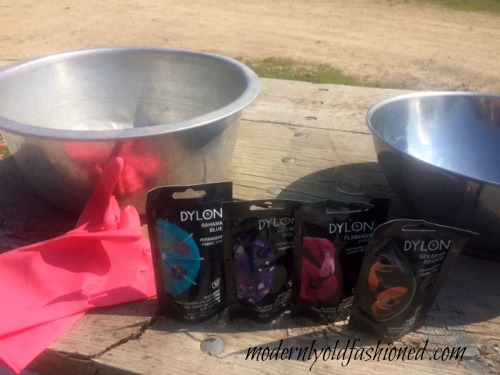 Be sure you are not wearing good clothes and do this project somewhere that you can easily (and quickly) clean up any spills! This can be messy!
Step 1:
Prep your flats. Make sure they are clean and get them damp. Also, be sure they are completely unfolded. If they are folded at all, the dye will not penetrate the fabric evenly.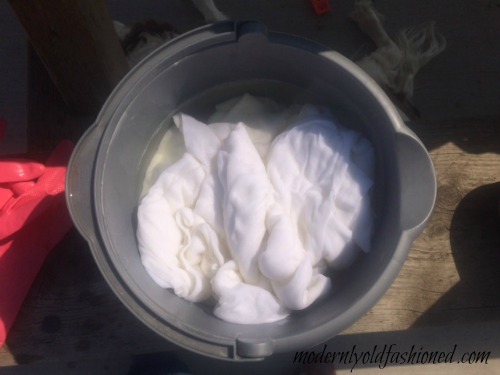 Step 2:
Fill up your dying containers with warm water. Make sure you use a container big enough for the fabric to float freely, but not too big to dilute the dye too much. You also want to use a vessel that's okay to be discolored- it more than likely will happen! Be sure not to fill them too full as you will be adding in the dye and the fabric, altering the water level.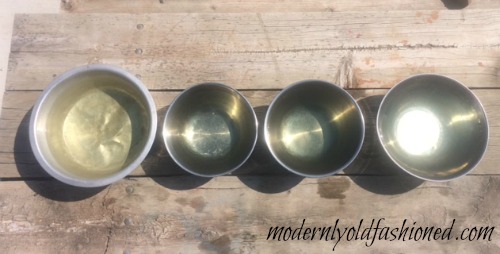 Step 3:
Add 1/4 cup of salt to the water, stir. I didn't have a lot of table salt left so I used three different kinds of salt, canning salt, table salt, and pretzel salt. I didn't notice any difference so definitely just use whatever you have lying around or pick up the cheapest salt you can find!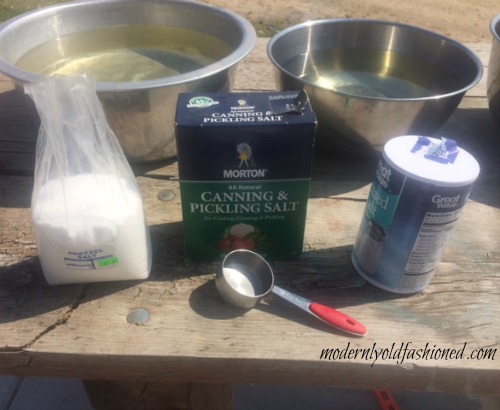 Step 4:
Mix dye with 4 cups warm water. Be sure to stir until all dye has dissolved.
Step 5:
Add dye to water in bowls.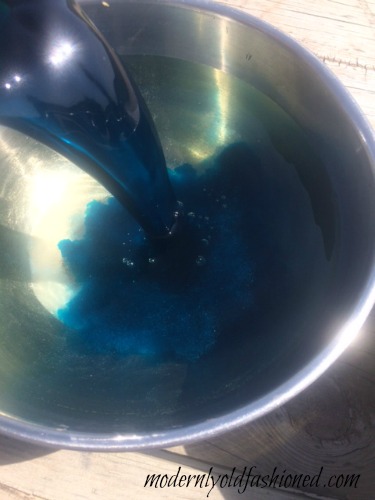 Step 6:
Submerge fabric in the dye mixture. Again, be sure they are unfolded when you do this. Use gloves or a spoon/paint stick/etc to gently stir them around so all the fabric is in the water.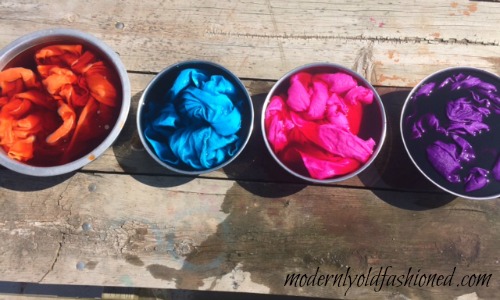 Step 7:
Periodically stir the flats to make sure they are being evenly dyed. I found that doing this by hand with my Dollar Store cleaning gloves worked the best. I could easily rinse them off between bowls so I didn't combine colors and it gave me good control doing it by hand.
Leave the flats in the dye for at least an hour. I left them in for about an hour and a half.
Step 8:
Pour out the dye water and rinse the flats in cold water. I made sure to rinse until the water was almost running clear.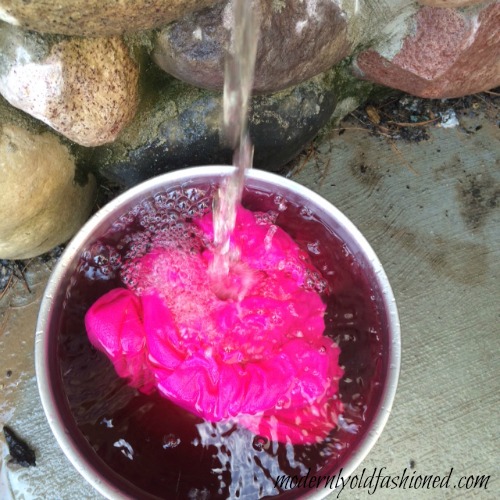 Step 9:
Wash the flats in hot water. I did this in my kitchen sink. Since it is stainless, I didn't worry about discoloration. If you have any sink that does discolor, I'd recommend washing them in the container that you dyed them in. Rinse until all soap is removed.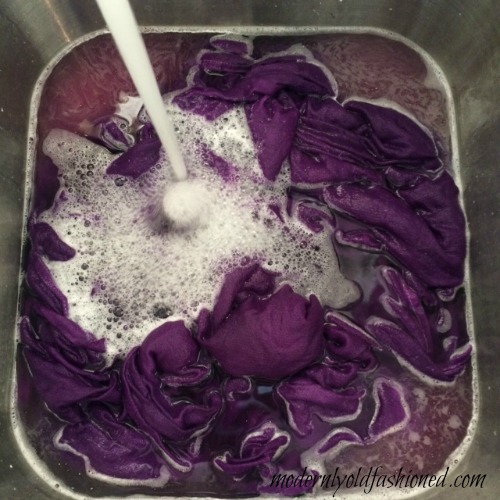 Step 10:
Hang up to dry and marvel at the beauty of your work! So pretty!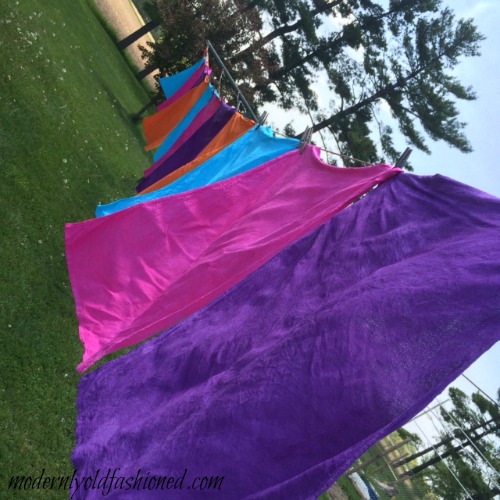 Even Loretta loves her "new" diapers!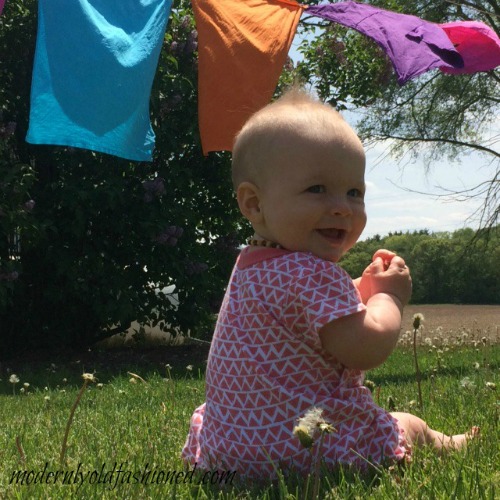 **Tip: if your flats come off the line "scratchy", take an iron to them. It softens them up very nicely!