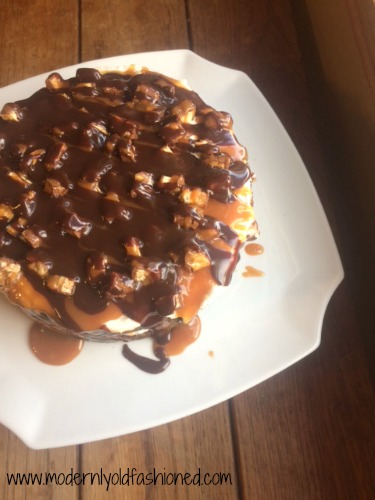 For my husbands birthday this year,  I asked what kind of cake he wanted. "Dairy Queen" was his response. Being the cheap-ass awesome wife that I am, I knew I would make his cake rather than  buy one. Right away I go to Pinterest for ideas and stumble upon this recipe from Fabulessly Frugal.
Now Mike LOVES ice cream. Like could not live without it. He also loves Snickers and Reece's candy. I knew a snickers cake would be absolutely perfect! Usually ice cream cake recipes require multiple freezing of layers that takes quite a bit of time. I was pleasantly surprised to read that this recipe only requires freezing once! Time savers are always appreciated in this house!
The only part that took a bit of time was baking the brownie layers. Because I only had one 8-inch pan, I had to bake the first layer, let it cool, remove it from the pan, wash the pan and repeat. But honestly, it wasn't that troublesome. I just did it the night before so the layers were ready to go the next morning for assembly.
Remember to think about time when making this cake. You can't make it just a couple hours before you want to serve it. It needs at least 6 hours to set up in the freezer. Perfect if you like to do things ahead of time- you could have this done days before your celebration!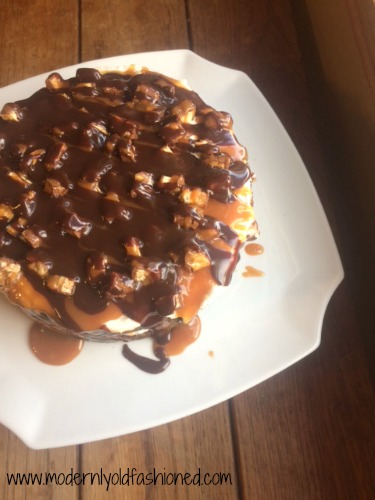 I was all proud of my awesome cake when (on his birthday) I saw on my Facebook "on this day" that I have made him a Snickers ice cream cake every year for the past few years. Whoops. This mom brain sure is something, I tell ya'. Next year I'll make a Reece's ice cream cake- maybe! Better write it in the calendar now so I don't forget!
After seeing the pictures on Facebook, I remembered last years cake and how it nearly broke my huge chefs knife (warmed in water) to cut it! I'm sure it tasted good but man it was a pain in the butt! This cake cuts beautifully and tastes amazing! It is very rich though, a little slice goes a long way! We will have ice cream cake in the freezer for awhile- Mike isn't complaining, that's for sure!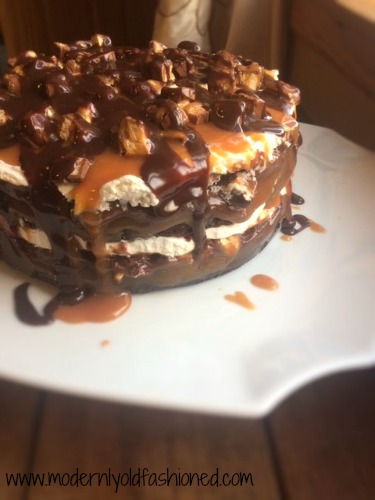 Snickers Ice Cream Cake
Brownie:
1 box brownie mix
ingredients required according to box
Ice Cream:
1/4 cup milk
8 ounces cream cheese, softened
1/2 cup sugar
1 1/2 teaspoons vanilla extract
8 ounces frozen whipped cream, thawed
Filling:
20 ounces chocolate sundae syrup
20 ounces caramel sundae syrup
11.5 ounces mini Snickers, chopped, divided into 3 groups
Instructions
Brownie Layer:
Make brownie batter according to instruction on mix box. Grease two 8-inch (or 9-inch) round pans. You may have to do this in two separate batches if you only have one pan. Springform pans will work the best if you have one. Line the bottom of the pan(s) with parchment paper. Bake at temperature on box, reducing baking time to 20 minutes. When brownies are done baking, allow to cool completely.
Ice Cream Layer:
Beat milk, cream cheese, sugar, and vanilla in a large bowl until smooth. Fold in the whipped cream.
Assembly:
If not using a springform pan, place a layer of plastic wrap over the bottom of the now-empty 8- or 9-inch pan. The ends of the wrap should hang over the sides of the pan. If using a springform, you can skip the plastic wrap. Line the bottom of the pan with parchment paper. Then line the sides of the pan with a sheet of parchment paper that extends above the top of the pan, creating a sheath for the cake. Your cake will be taller than your pan, the parchment paper will act as an extension of your pan so you can layer it higher. It also will make removal of the cake much easier.
Place one of the brownies into the bottom of the pan.
Spread 1/2 cup caramel sauce and 1/2 cup chocolate sauce over the brownie. Sprinkle first group of chopped Snickers evenly over the sauce.
Gently spread half of the ice cream mixture over the Snickers.
Add the second brownie to the pan, on top of the ice cream.
Cover with another 1/2 cup caramel sauce and 1/2 cup chocolate sauce. Sprinkle second group of chopped Snickers evenly over the sauce.
Top with remaining ice cream mixture.
Allow ice cream cake to freeze completely overnight, or at least 6 hours.
Once frozen, remove the cake from the pan. Remove the parchment paper from the cake and place the cake on a serving platter.
Before serving, top with additional chocolate and caramel sauce (warm for easy pouring), allowing it to drizzle down the sides of the cake. Sprinkle remaining chopped Snickers over the sauce.