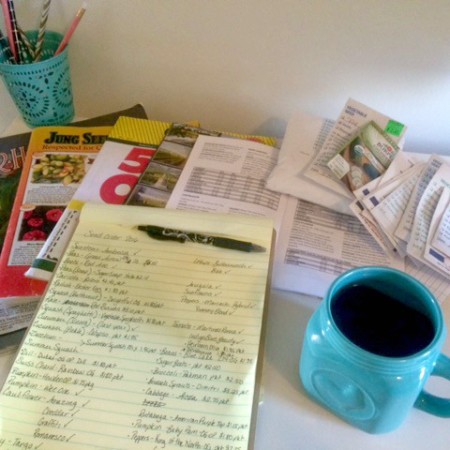 After being cooped up all winter (I'm a wus when it comes to the cold), I am itching to get my hands dirty in the garden! I know that once July comes along and I'm up to my eyeballs in weeds, I'll be cursing. However, no matter what I say in my time of frustration, I ultimately love my gardens.
Winter and early spring is the perfect time to start planning your garden! I would ideally like to have it all planned by March but with the addition of our third child, time is just not on my side. That's okay though, still plenty of time to get it figured out! You have even more time if you don't plan on starting any seeds indoors. My experience is in Wisconsin, so your growing season will differ depending on what zone you are in.
Here's how I begin:
Evaluating Previous Year
(Skip this step if this is your first year gardening)
First off, I take out all my seed packets from last year. I sort the ones with remaining seeds from the empty ones. There is NO need to throw away those extra seeds! Use them year after year. In fact, once I used a packet of cherry tomato seeds for 6 years before I ran out and they still grew as good as they did the first year (trust me, no one wants 30 cherry tomato plants in one year)! As long as they don't get wet or moldy, they should be just fine.
I go through all the empty ones to see what I ordered last year. That helps me remember what ones worked (and I can re-order) and what ones I didn't like so I don't order them again. Example: last year my zucchini plants died suddenly without any obvious reason (pretty sure zucchini could be grown in concrete so it was very odd that it just up and died) therefore, I will not order that kind again.
This year I am also going to create a binder with my seed packets. I will record how many I planted and what the yield was. That way, when I order next year, I will have an even better idea of what I need. This memory of mine needs as much help as it can get!
List Making
After this, I make a list of what I want to plant this year. One year I planted eggplant. I wanted to try it and it is just such a pretty plant to grow! However (despite trying many recipes), we decided we just don't like the flavor. So I don't plant it anymore.
Some things we don't plant every year. Like pickling cucumbers. We end up canning so many that they last us a couple of years, so we only plant them every 2 years. I do like to add new things to the garden. Maybe one or two each year. This year I'm adding parsnips and turnips.
If it is your first time gardening, start out small and with vegetables that you know your family likes. Then once you get the hang of it, add more. Also, try easy to grow things first.
Easy to grow:
Zucchini/summer squash, winter squash, tomatoes, beets, lettuce, green beans, carrots, cucumbers, spinach, radishes, and peppers are all fairly easy to grow and I recommend trying these if it is your first time gardening.
Hard(er) to grow:
Watermelon, cantaloupe, broccoli, cauliflower, cabbage, celery, sweet corn, head lettuce, eggplant, sweet potato, artichokes are all harder plants to grow. Water intake, temperature needed, cross pollination issues, and pests are among the reasons that these are more difficult plants to grow. Although they are not impossible, I'd just recommend plating some easy ones if it is your first time gardening.
You will also need to take into consideration the size/set up of your garden and the size of the plants. Example: squash and zucchini plants take up a lot of room. Not an ideal choice for a container or small garden.
Seed Ordering
Next, I get out my seed catalogs. I'm not sure why, but for some reason seed companies do not like sending catalogs to our address. I've tried so many times and they never come (except for one). Luckily for me I have family that give me their extras.
Last year I discovered a (relatively) local Amish greenhouse that sells organic seeds. We went there and were excited with their selection and prices! For less money than I was spending with other companies, I can plant all organic seeds. I bought quite a bit through them and was so impressed with the quality, I am ordering everything through them this year. *Side note* We are so excited that this year our gardens can actually be classified "organic" as there have not been any chemicals on them for the past three years! Added bonus- they actually sent me a catalog! Yes! However, there isn't a lot of description (and no pictures) so I use my other catalogs to compare. Some of the seeds are exclusive to them so there isn't any info on them in other catalogs but cross referencing helps me a lot.
Once you decide what plant, you need to decide what variety to get. There are so many options out there! You need to take into consideration what you want out of your garden. Do you want to just eat it all fresh or do you want to preserve some? If so, you need to find varieties that can or freeze well. If you want to make spaghetti sauce, for example, you will want to plant some Roma-type tomatoes as they are great for sauce making.
A good catalog with decent pictures (really it helps!) and descriptions can be extremely helpful. I recommend Gurney's, Jung's, and R.H. Shumway's. The Amish company I am ordering from is Ross & Supplies out of Hillsboro, WI. If you don't have any catalogs, they all have websites as well (except for Ross & Supplies), if you click on their names I've linked them all. I prefer having the catalog in hand but online research, shopping, and ordering is great as well!
Of course, you can always go through your local hardware store to buy your seeds. There are many options out there! I highly recommend doing a little research on different varieties before going though, otherwise you may be overwhelmed with the selection. Bush or pole beans? Heirloom, Roma, Cherry, Grape tomatoes….? Organic or not? Treated/untreated? Innoculant? There is a lot to consider and a little prep ahead of time can make it a lot less confusing!
I hope this helps you with your first step in setting up your garden this year! Taking the time to evaluate, list, and research what to plant is a very helpful and important step in successful gardening!
As always, please feel free to comment or email me with additional questions or helpful tips!