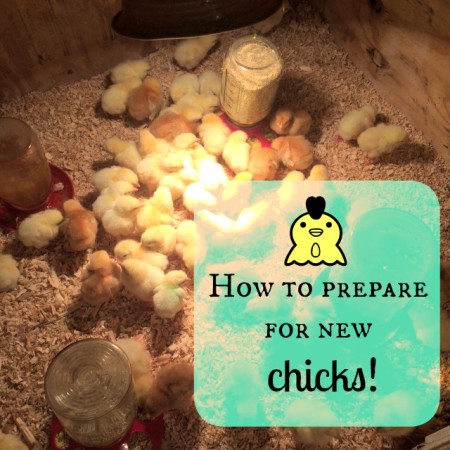 So you have decided to venture into the fun world of raising chickens! Or perhaps you already have chickens and are getting your first batch of day old chicks. Either way, here's some helpful tips to prepare for the arrival of your little fluff balls!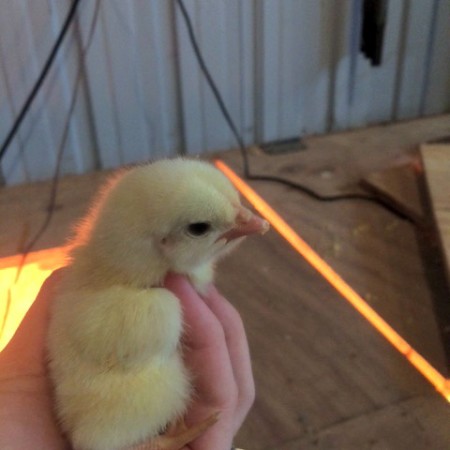 Brooder
First off you need somewhere for those little peeps to live until they are big enough to go outside, otherwise known as the "brooder". The brooder should be a well ventilated (but not drafty) enclosure of some sort in which you are able to safely secure a heat lamp. We use a large wooden box that my husband built. Since we get varying sized orders, we have a partition in the middle. This allows us to keep the chicks closer when they are very new and then we open it up when they grow bigger. Or, as in the case this order, we have different kinds of birds we want to keep separate. Our first chickens we ever got went in our sons (cleaned out) toy box! It has since been thoroughly cleaned and now is an outdoor toy box :). It can be a large cardboard box, an aquarium, a tote, anything you can rig up. Again, you just need to make sure you are able to safely secure a heat lamp. You don't want there to be any chance of the lamp falling or accidentally igniting the brooder.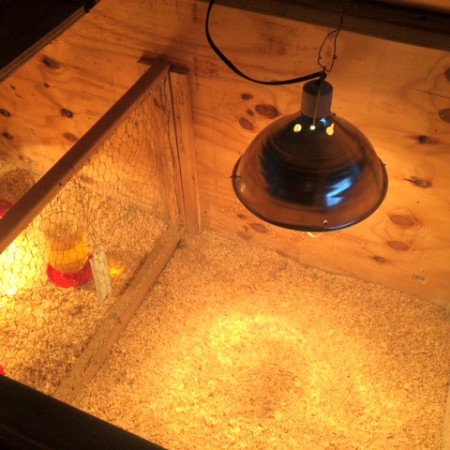 Warmth
Speaking of heat, newborn chicks are fragile and need to be kept warm. You must have some sort of heat source to keep them warm. Most popular are heat lamps, although I have also heard some people use heating pads for small orders. Personally, I'd be a bit leery of a heating pad under the shavings but that's just me. A thermometer can be kept in the brooder to monitor the temperature. You don't want them to get too hot, nor too cold. The ideal temperature is 90ºF-95ºF for the first week and raised about 5 degrees each week thereafter (until chicks have their feathers, then they can go without a heat source). If you do not have a thermometer, you can check the temperature by observing the chicks. If they are huddled together under the heat source, they are too cold. If they are as far away from the heat as possible and laying down with their wings out or panting, they are too hot. Ideally, they should be spaced out around the brooder. You can adjust the temperature by lowering or raising the heat lamp, changing the bulb wattage, or opening/venting the cover (if your brooder has one).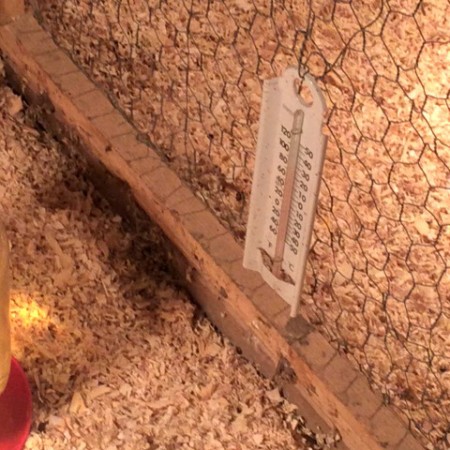 Bedding
The chicks need to have clean bedding. Pine shavings work great for us. Make sure if you get shavings that its not fine and do not use sand before they are a couple weeks old. The chicks can eat the bedding if it is too small and cause blockages which often ends up deadly. Many people choose to place paper toweling over the shavings for the first day or two so the chicks don't peck at the bedding but we haven't had an issue with putting them on the shavings right away. The bedding needs to be changed regularly as it becomes soiled. Chicks are very susceptible to illness and a damp environment encourages sickness.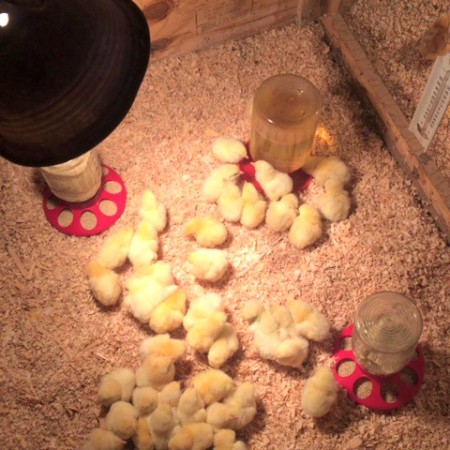 Nourishment
Food and water. Before chicks hatch, they absorb the yolk in the egg which nourishes them for 24-48 hours after they hatch. Some people choose to not offer the chicks any food at first because of this but we have always put food in right away.  Chick crumbles from your local feed mill or farm supply is really all they need at this point. Medicated or un-medicated, its up to you. We choose to buy medicated for the first week or two but then our chickens never get any medications after. We also have started putting some crumbled up hard boiled egg yolk on top of the feed. Gives the chicks an extra little boost. Chicks must always have fresh, clean water available to them. In fact, when you get your chicks home you should dip their beaks into the water to encourage drinking right away. We always add electrolytes to the water as well. Again, encourages drinking as the chicks can be a bit dehydrated after their travels. If you use a larger (or deep) dish for water, add a few small rocks/pebbles in it so the chicks don't hop in and accidentally drown.
Raising chickens is fun for all ages! It really is quite easy and extremely rewarding. Whether you are raising chickens for pets, production, or to fill your freezer, you are now ready to bring your hatchlings home!