Roasting a whole chicken can be intimidating and frustrating. There are roughly 6,829,293,641 roast chicken recipes out there and I swear I've tried about… 34 of them. 33 of them didn't work and once I found this one, I stopped looking. This Perfect Roast Chicken recipe is the last roast chicken recipe you will ever need.
More than once, I'd follow the recipe to a "T", pull a gorgeous looking roast chicken out of the oven, let it properly rest, and cut into it only to have a bloody, under-cooked mess on my cutting board. (p.s. a meat thermometer is your friend, if you don't have one- get one. Another life lesson learned.) Not only would I have to toss that chicken back in the oven, with the yummy juices now running out, I would have to appease my hungry little munchkins a bit longer. The chicken would end up dry and dissatisfying. Wasted meat does NOT make this mama happy, especially since know first hand how much work it took to raise and butcher that bird.
Of course we wouldn't ever actually waste the meat, my family is very easy to please and everyone still ate it. We repurposed it in leftover dishes (lots and lots of sauce/gravy to help with the dryness) and always boil the carcass for stock. Nothing goes to waste here. However, it still is a big bummer when a dish doesn't turn out very well. In our case, roast chicken was just never "great" in this house.
That is, until this method of roasting chicken came into my life. Yes, I said method. The title may state "recipe" but actually, with different seasonings and additions, you can make many different kinds of perfect roast chicken by using this basic roasting method.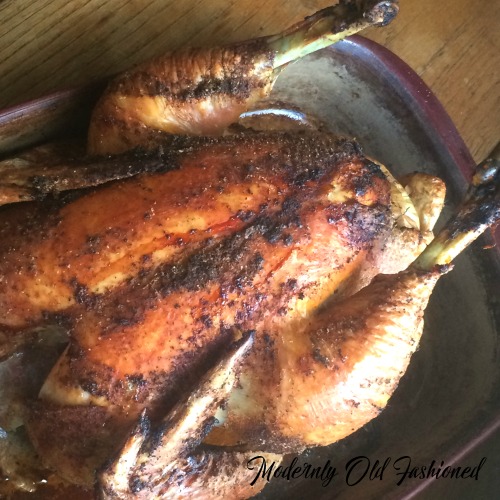 The first step in the roasting process is to blast that bad boy (or girl) with high heat. This seals in the juices and produces and amazingly moist bird every time! After cooking at a high temp for a few minutes, you turn your oven down and finish the chicken at a more normal, 400ºF. Check its temp (aiming for 165ºF), let it rest for 10-15 minutes and carve. Yes, it's THAT easy!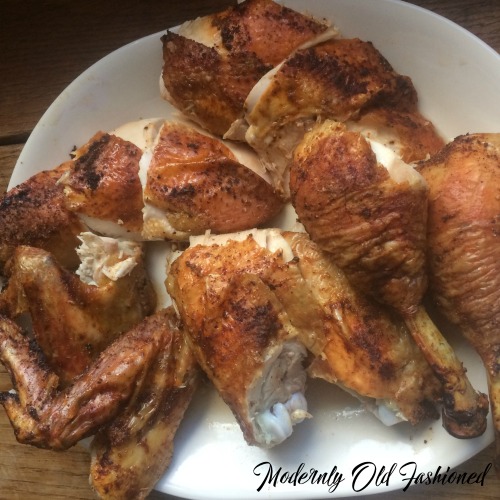 This recipe is for a standard 4-5 lb bird but can easily work on bigger chickens as well. I have used this method on our giant 8-9 lb chickens and end up only having to add a little time to the end (add in 15 minute increments until the chicken reaches the desired temp).
Adjusting the seasonings, cavity filling (hello, beer can chicken!!), etc is super easy to do- this recipe is so versatile. As long as you stick with the cooking temperatures/times, you are golden! I added my favorite "sticky chicken" seasoning to this recipe, I love it and it is one of our most used chicken seasonings!
Perfect Roast Chicken with Sticky Chicken Seasoning
Sticky Chicken Seasoning
4 tsp salt
2 tsp paprika
1/2-1 tsp ground cayenne (adjust to your personal heat preference)
1 tsp onion powder
1 tsp thyme
1 tsp white pepper (optional)
1/2 tsp garlic powder
1/2 tsp black pepper
Perfect Roast Chicken
4-6 lb thawed whole chicken (if using a larger bird, add time in 15 minute increments until desired temp is achieved)
1 large onion for cavity- optional (lemon/oranges and fresh herbs are also great)
Preheat oven to 450°F.
If using Sticky Chicken Seasoning, mix all ingredients together in small bowl. Rub the seasoning all over chicken, be sure to get some under the skin if possible- use ALL of it! Cut onion in half and place in cavity.
Place chicken on a wire rack inserted into a roasting pan. If you do not have a wire rack, rolled up balls of aluminum foil will help keep the chicken out of the juices. If you don't have either, that's okay, the chicken skin will just not be as crisp where it is resting in the pan. Be sure to place chicken breast side down to keep the breast meat moist.
Roast for 20 minutes at 450°F then turn oven down to 400°F for 40 minutes or until internal temperature reaches 165°F.
Once the correct temperature is reached, remove from oven and let the chicken rest for 10-15 minutes before carving.
**Don't forget to save the carcass for chicken stock!