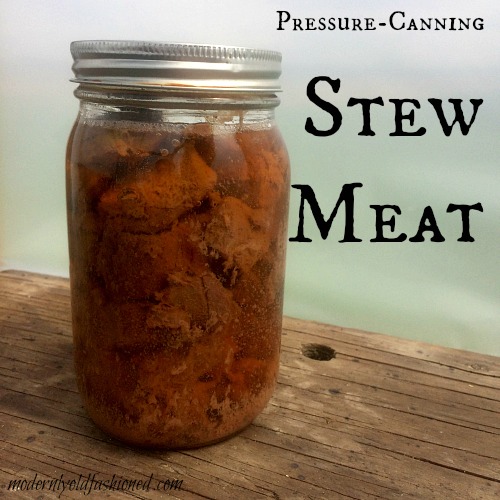 For many years, canned meat gave me the heebie-jeebies. It just seemed gross, I can't really explain why. Maybe it's just hard to get past all of the facts ingrained in my head about how meat needs to be properly handled, refrigerated/frozen or you will get some awful sickness landing you on the toilet,  or worse. Of course you still need to properly handle meat when canning (hence pressure canning, not water bath) but if done correctly, it is perfectly safe in the jar for a year or more!
Finally after years of vowing to never touch the stuff, my curiosity got the best of me (the shiny new pressure cooker helped nudge me in the direction!) and I decided to can venison. My husband and I are avid hunters and venison is one of our staple meat sources. Mike (the hubs) and his dad have a small butchering business on the side and his most dreaded order for deer is "stew meat". It's not hard at all to cut up stew meat but just time consuming. You can imagine his delight when I told him I wanted a bunch of stew meat out of our latest harvest.
Canning meat is really quite simple. Cut it up, sear it, throw it in a jar with some water and can it! I was still a bit skeptical (it does not really have the most appealing appearance) but I was fully on-board after that first bite. So tender and oh so delicious! Mike has even decided the extra time cutting it up is definitely worth the reward! He even voluntarily cut up a bunch of stew meat out of the half-beef we were given… Then proceeded to thaw it out at a relatively inconvenient time because he "decided to rearrange the freezer". Sure I have time to can that honey… Gotta love him. 🙂
There really isn't any exact recipe for this. It all depends on how much meat you have. This does drive me a bit nuts, but really it's not a big deal. If you end up with a little extra meat and you don't want to run your pressure cooker for just a couple jars, make some stew! This is a ball canning recipe.
As with any canning recipe, you want to prepare your jars before starting anything. Clean and inspect all the jars for cracks or chips. Gather your lids and bands.
First, cut up the meat into 1 to 1 1/2 inch cubes. You don't want them too big or you wont get many in your jar and you don't want them too small or they will pack too tightly. Remove excess fat.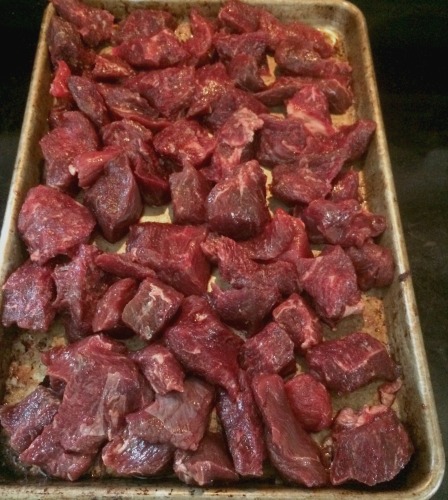 Then you sear the meat. This can be done on the cooktop or in the oven. I chose to do it in the oven because I had 30 lbs to can. If you have a small amount, a hot pan on the stove- with a little oil, will work just fine. You only want the outside to start to brown, the inside should still be rare. Make sure to save the fat.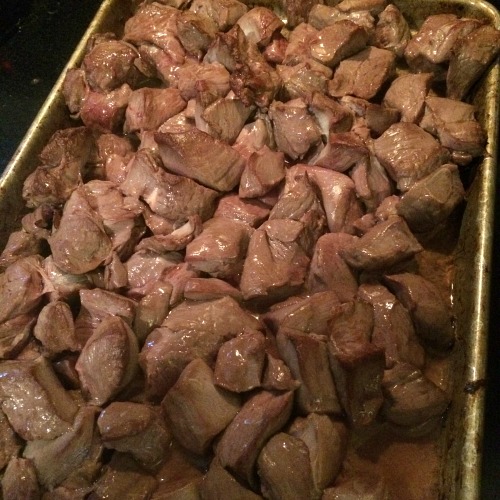 Fill the jars. You want to pack it in there but not too tight, leave some space. Add salt if using. Ladle in hot water or broth until filled to one inch headspace. (See recipe below for quick broth).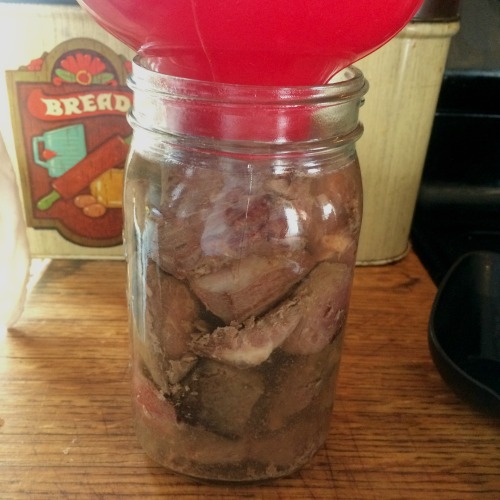 Wipe the rims clean with a towel (or paper towel) dipped in vinegar. Add lids and tighten bands.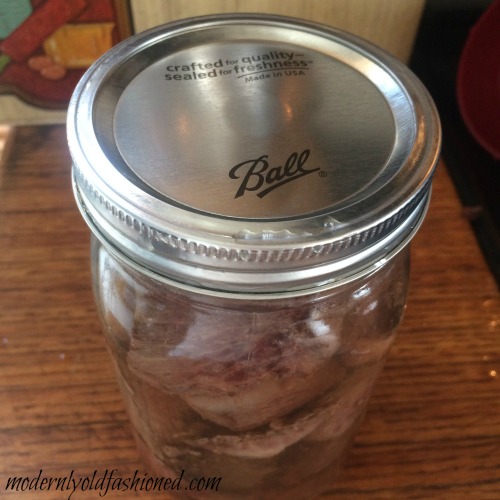 Place in your pressure cooker and add the recommended amount of water for your cooker (my 23 quart cooker takes 3 quarts of water). Secure the lid. Process at 10 lbs pressure for 75 minutes (pints) or 90 minutes (quarts).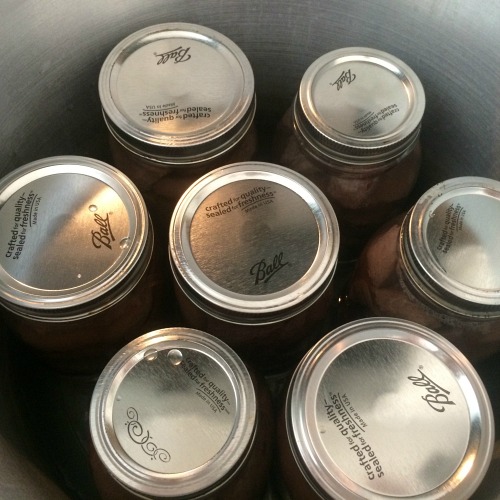 After it is done, turn off the heat and move the cooker off the burner (unless its too heavy). Do not mess with anything on the pressure cooker- let it cool down until pressure is zero (I give it extra time too) before opening.
Take jars out and let cool. Label and remove bands before storing.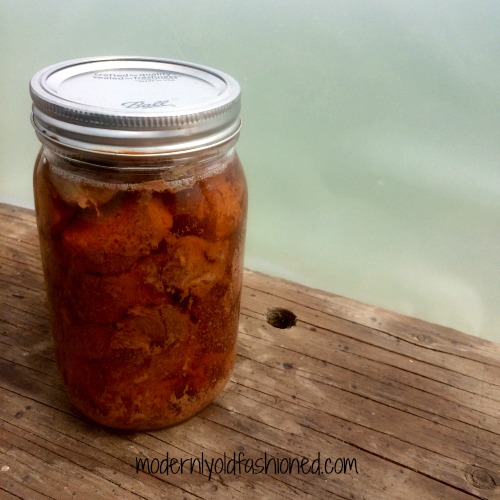 Canned Venison/Beef Stew Meat
Venison or beef cut up into 1 to 1 1/2 inch pieces, excess fat removed
Water or beef broth (see recipe below for quick broth)
Salt (optional)
Jars, lids, bands
Pressure canner
Prepare jars, lids, and bands. Sear meat in single layer on a rimmed sheet tray in 400°F oven for 10-13 minutes or until edges are starting to brown. If choosing to do on the cooktop, use a bit of oil in your pan and sear a few pieces at a time over med-high heat. Do not over crowd your pan or they will not sear. Only do a quick sear, they should still be rare. Reserve fat if making the quick broth.
Pack meat into jars. Add 1/2 tsp salt to pint jars or 1 tsp salt to quarts (optional). Fill jars to 1 inch headspace with hot water or broth. To make the quick broth, add 1 cup boiling water or stock per 2 tbsp fat leftover from searing. Bring to boil over medium-high heat, boil for 2-3 minutes.
Wipe down rims with a towel or paper towel dampened with vinegar. Place lid on top, screw band on until fingertip-tight. Place in pressure canner. Add recommended amount of water per instructions with your canner. Lock lid and bring to boil over medium-high heat. Vent steam for 10 minutes (start timing once steam is visible), then close vent. Continue heating to achieve 10 lbs pressure. Process pints 75 minutes and quarts 90 minutes.
Turn off heat. Let pressure return to zero. Wait a few more minutes then remove vent cover. Remove lid, wait 10 more minutes, then remove jars, cool (24 hours), remove bands, label and store.