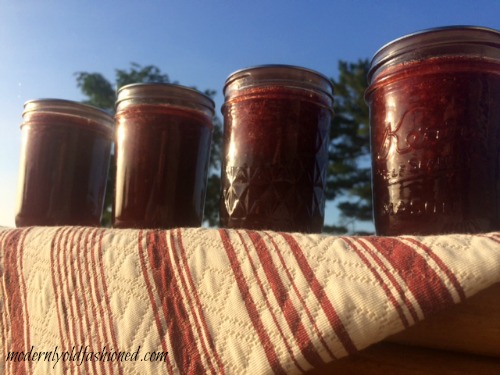 Strawberry Jam is one of those must-make things in our home. It is our favorite by far and I make sure I have a couple dozen jars done up during strawberry season. Strawberry Balsamic Jam is one of the highlights of our jam collection this year!
Our strawberry patch is finally producing and I am over-the-moon excited! This was my third replanting and it was worth the wait! I love being able to just walk out to the garden and pick buckets and buckets of gorgeous, red, ripe berries. My children love it as well! I catch the boys (and the husband) in the patch all the time, sneaking a berry or two (or 20…). Of course the baby loves them too! She is my official quality control tester, eating them as she watches me pick.
When I went to make my jam this year, I noticed an alternative recipe in my Ball© Canning book. Strawberry Balsamic Jam. Not going to lie, I was a little put-off by this at first. Vinegar in jam? But then I remembered balsamic can be paired nicely with sweet and decided to go for it! Counting on my beautiful strawberry patch to produce many more berries just incase this didn't work.
Oh boy am I glad I took the chance. This will definitely be my go-to strawberry jam recipe. I won't even bother posting the original recipe (its easy anyway, just use 4 tbsp. lemon juice instead- no vinegar) because I highly recommend using this one!
Most noteworthy, the addition of the balsamic vinegar enhances the strawberry flavor without carrying over any of the vinegar flavor. You end up with a beautiful, robust jam that will knock your socks off!
Furthermore, I reduced the sugar quite a bit (original recipe calls for 7 cups) and I didn't miss it at all. Reducing the sugar does produce a softer jam, you can increase the sugar content if you would like it to set more firmly. We prefer our jam to not be extremely sweet (plus this makes it slightly better for you)!
Mike tried it when he got home and he agrees- this is absolutely amazing jam. As a result of learning this new little trick, I decided to replace some of the lemon juice with balsamic vinegar in my Strawberry Rhubarb Jam. Yum!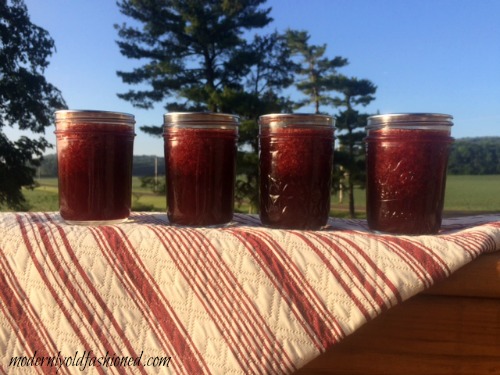 Strawberry Balsamic Jam
8 cups whole strawberries
1 tbsp. lemon juice
3 tbsp. good balsamic vinegar
1 package (1.75 oz) regular powdered fruit pectin
4 1/2 cups granulated sugar
Prepare and clean seven 8-oz mason jars. Keep warm.
Gather seven two-piece closures. Set bands aside, keep lids warm, either in water in a saucepan on the stove (on low) or in a bowl with warm water.
Fill canner with water, cover and bring to a simmer over medium high heat.
Measure sugar into a bowl and set aside (it is important to add sugar all at once to eliminate cooking delays and possible burning of the jam).
Wash and hull strawberries. Using a food processor or blender, quickly pulse the berries until crushed but not liquefied (you still want little chunks of berry). If you don't have either of these, you can use a potato masher to mash them up. Measure 5 cups of crushed strawberries.
Add lemon juice and balsamic vinegar to crushed strawberries in saucepan. Whisk in pectin until dissolved. Bring to a full rolling boil over high heat, stirring frequently. Add sugar all at once and stir constantly, return to a full boil that cannon be stirred down. Boil hard, stirring constantly, for 1 minute. Remove from heat and skim off foam if necessary.**
Fill warm jars to 1/4 inch headspace. Wipe rims with a clean damp cloth or paper toweling. Place lid and band on jars, adjusting to finger-tip tight.
Place jars in canner and bring to full rolling boil over high heat. Once boiling, set your timer for 10 minutes. After processing, turn off heat and remove canner lid. Wait 5 minutes then remove jars and place on towel to cool, for 24 hours.
Check for seal, remove bands, wipe off jars if necessary, label and store in a cool, dry, dark place.
**To reduce foaming, you can add up to 1/2 tsp butter to the recipe before cooking. This will reduce surface tension and thus reduce the buildup of air bubbles which is released from the fruit during cooking.