Happy National Zucchini Bread Day!
Didn't know that was a thing? Me either, until I got the genius idea to look up National celebration days (today is also National Hug a Plumber Day and National Telephone Day, fyi). What a great excuse to use up some of my frozen zucchini. I went to the freezer to find that I only had three packages left! Oh no! Well, I've already committed so no turning back now!
Last year our zucchini plants did not do well (yet to figure out why). Normally I freeze an insane amount of zucchini and use it all year long- in sauces, soups, and baking, of course! My dad is always leery of my cooking, fearing that the dreaded green vegetable is hidden in the goodness. Well, he doesn't have to fear any more, at least until this years crop emerges.
This is my all-time favorite zucchini bread recipe. It's moist, sweet, earthy (not in a dirt way), and the streusel crust gives it a great crunch. We love it the most when its nice and warm, fresh out of the oven. My boys (hubby included) could devour an entire loaf in a single sitting.
**Words of wisdom, if you are using fresh grated zucchini, make sure to wring the excess water out. Once you are done shredding, using a clean dish towel, wrap it up and squeeze as much water out of it as you can. You will need to use your muscles!! Don't skip this step unless you want your bread to be extremely dense. The added water does not help give it more moisture, trust me- your bread will not be nice and fluffy. If you are using frozen, you will be able to drain the water out off once it is thawed. Frozen zucchini lets off a lot of water and will reduce your volume by half. If you froze 2 cups fresh zucchini, once thawed it will be about 1 cup.
In a large bowl, beat the eggs until frothy.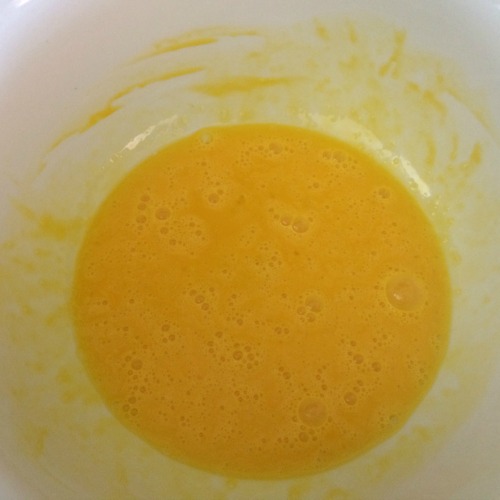 Add sugar and oil, mix well.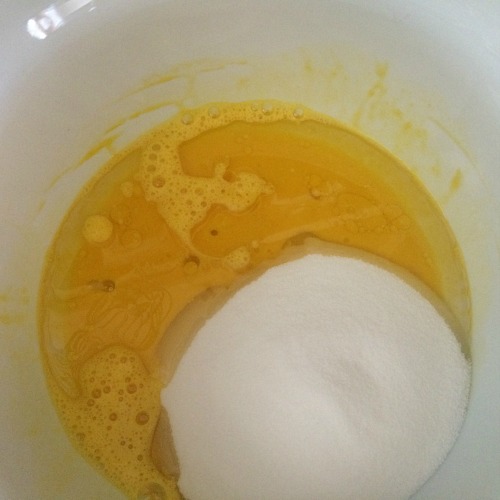 Stir in zucchini and vanilla.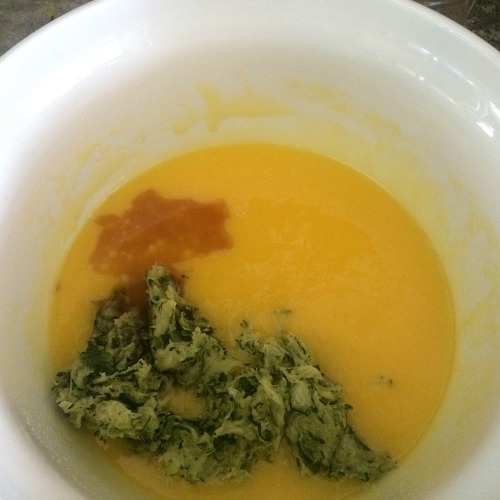 Using a spatula, add in the dry ingredients.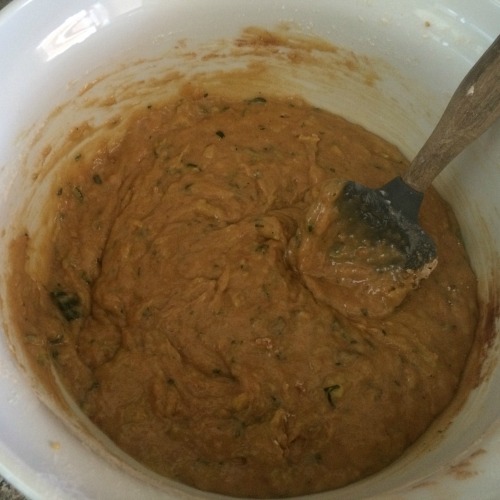 Pour into prepared bread pans.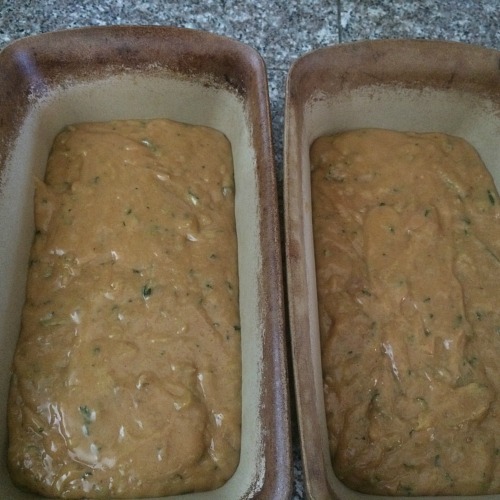 In a separate bowl mix together the dry ingredients for the streusel.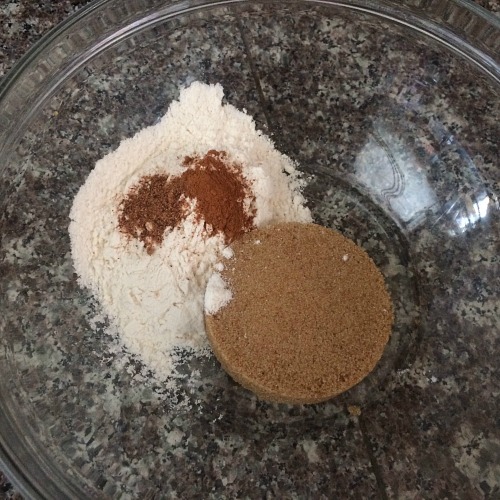 Cut in the butter with fork or pastry blender until it resembles fine crumbs.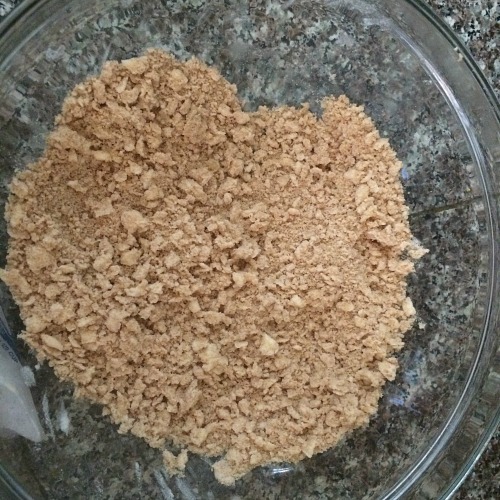 Divide and sprinkle on top of bread batter. Bake.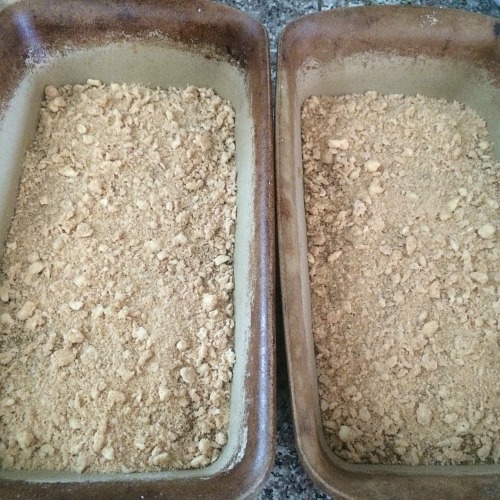 After baking, let sit for 5 minutes before removing onto a wire rack, cool (a little bit at least) and enjoy!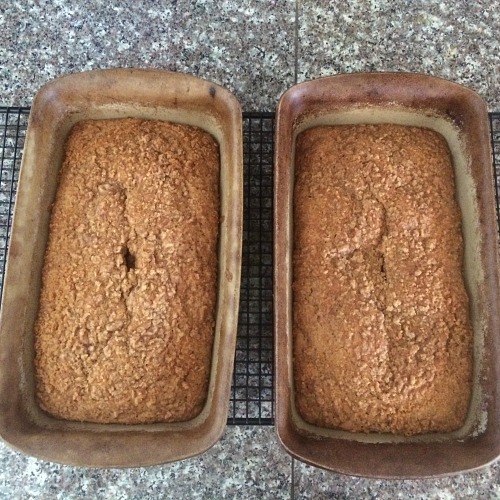 Try not to eat the whole loaf at once… But if you do- it's a little healthy, right?! ♥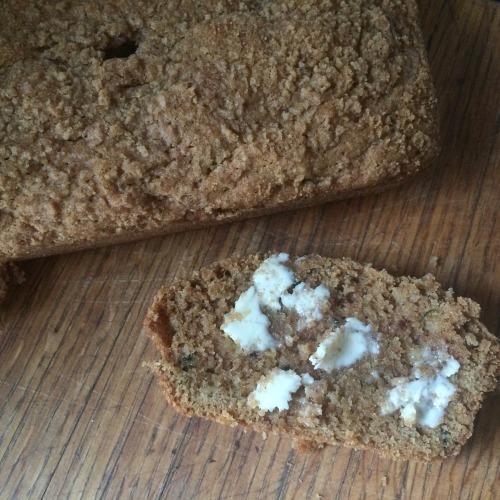 Streusel Zucchini Bread
3 eggs
1 cup vegetable oil (you can substitute applesauce for a healthier bread)
2 cups white sugar
2 cups grated zucchini (measured after wringing out water-see above)
2 tsp vanilla extract
3 cups all purpose flour
3 tsp ground cinnamon
1 tsp nutmeg
1 tsp baking soda
1/4 tsp baking powder
1 tsp salt
1/2 cup chopped walnuts (optional)
Streusel topping
1/4 cup brown sugar
1/4 cup flour
1/4 tsp ground cinnamon
1/8 tsp ground nutmeg
2 tbsp butter
Preheat oven to 325ºF. Grease and flour two loaf pans.
In large bowl, beat eggs until frothy. Add sugar and oil, mix well. Stir in zucchini and vanilla. Using a spatula or wooden spoon, mix in flour, cinnamon, nutmeg, baking soda, baking powder, salt, and nuts (optional). Do not over mix but make sure everything is fully incorporated. Divide batter into prepared pans.
In small bowl, combine brown sugar, flour, cinnamon, and nutmeg for streusel. Use a fork or pastry blender to cut in butter until the mixture resembles fine crumbs. Divide evenly over bread batter.
Bake for 60-70 minutes or until a knife/toothpick comes out clean.
Cool for 5 minutes before removing from pans onto wire cooling rack. Enjoy warm or cold!