One of the best things about having our own gardens and preserving our food is that we can have all different kids of fruits and vegetables all year long. In season or not! In our basement cellar we have all of our cured spaghetti and butternut squash. I wish I could say we only use spaghetti squash and not the less-healthy pasta but I can't. We do get tired of the same ol' spaghetti squash and sauce routine and we end up not touching them for a few months in the winter. Recently, I decided we need to get using this squash before it goes bad! We cure it but that only allows it to stay good for a few extra months and as you all know, I hate for things to go to waste. (Especially after I spent so much time in the garden keeping those darn plants alive.)
I got this idea from a Pinterest post that used regular spaghetti and baked it in individual portions. It was cute and looked delicious! Just as I was about to make it with pasta, I remembered our yummy, almost forgotten, spaghetti squash (as well as the baby weight that has yet to disappear….) and decided to re-vamp the recipe to make it healthier! You can adjust this recipe to your own personal liking. Add ground burger or sausage, peppers, mushrooms, anything you wish! It is quite versatile and very simple! Roast the spaghetti squash the night before so you can just throw it all together and pop it in the oven when you get home or even prepare the whole thing the night before and bake the day of (you may need to add a little more baking time). I have not tried this as a freezer recipe yet but I imagine it would work just fine. My family raved about it and it is now a very popular dinner in our home!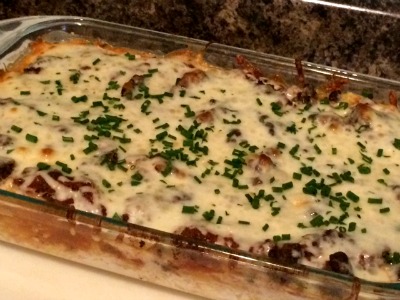 Alfredo Spaghetti Squash
4 lb Spaghetti squash
1 jar Alfredo Sauce (or use a homemade recipe)
1 jar Spaghetti Sauce (or homemade- I used our home-canned spaghetti sauce)
2 cups mozzarella cheese
Optional: 1 lb ground beef or sausage/mushrooms/peppers/etc.
Parsley or chives for garnish.
Prepare and cook spaghetti squash. (Check out my recipe for the perfect way to roast spaghetti squash.) Preheat oven to 350ºF. Add the alfredo sauce to the squash and mix thoroughly. Pour into 9×13 baking dish. *Optional: layer beef/sausage/mushrooms/etc.* Pour spaghetti sauce over squash mixture. Top with mozzarella cheese. Bake for 30 minutes or until bubbly. Let cool a bit and enjoy!
Because of the water content in the squash, this can come out a bit runny. Doesn't affect the taste at all but doesn't make for a very pretty picture, hence the lack of.