The first signs of spring are here on our little farm. Babies! We brought home our first batch of meat chicks and ducklings yesterday! This order was 45 Cornish Cross, 15 Red Rangers, and 6 Rouen ducklings.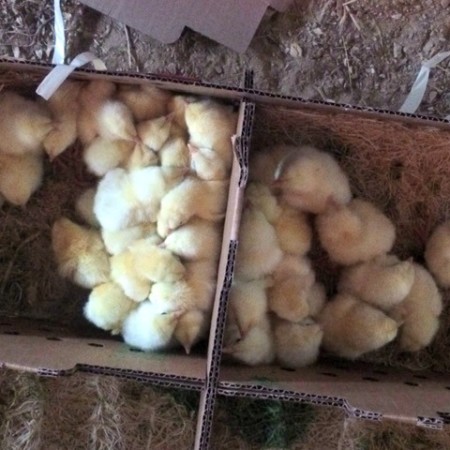 We are trying out the Red Rangers for the first time as we have read, although they grow slower, they are better at free ranging and when we start our CSA we want to pasture raise all of our meat birds. We also are curious how their meat tastes compared to the Cornish Cross, as well as how their health differs. Although we haven't had a huge problem with the "typical" Cornish Cross issues (growing too fast so their legs give out, heart attacks, etc), we do have at least a few each year that end up having to be butchered early. We feel like the Red Rangers are a more "natural" meat bird as they aren't bred to gain weight so quickly but still provide good meat supply. If it works out, we could also potentially raise a Red Ranger rooster and some hens so we can incubate eggs and not have to buy every year. This isn't possible with Cornish Cross.  Again, this is our test year on them. Here's to hoping we have a great first batch of meat chickens!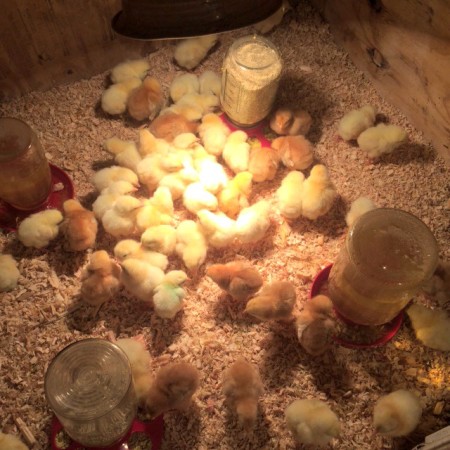 We always do two batches because our set up just doesn't allow for one huge batch while still providing ample room for the chickens to roam and free range. Quality over quantity. They are so darn cute at this age but I guarantee, in 8 weeks ill be ready to send them to the butcher block. Don't judge 'till you have had to push your way through a herd of pecking chickens acting like they haven't been fed in weeks (this happens multiple times a day as we don't keep food in front of them at all times- as to mitigate the rapid growth issues).
The kids love them too! I am always asked how they fare with the idea of butchering these birds that we have raised from little fluff balls? They absolutely understand why we do what we do. They know that we need to raise them to eat and that we are very lucky we know where our food comes from. I can't say they never get sad over it but it is short lived and I am so grateful they respect and understand the circle of life. We give these animals the best quality of life possible and are very thankful for the nourishment they provide to us and the people who buy our meat birds. In fact, one of our favorite memories was finding our oldest son (5 at the time) out in the meat chicken coop, reading books to them. He sat in there for hours (yes I thoroughly washed his clothes and books after). It was the sweetest thing ever. We are going to encourage him to "bond" a little more with the new laying hens when we get them since they stick around a bit longer. 🙂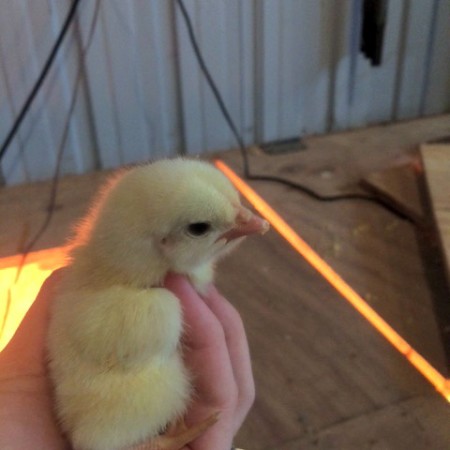 Ducklings are also a first for us this year. Yes, they are messy little creatures. Yes, they are cute as heck though! We ordered 6 Rouens. We will be butchering them and I'm so excited to have duck in the freezer! In my opinion, ducklings are so much cuter than chicks so its hard for me to think about butchering them at this point but again, I find comfort in knowing we really do give them a good life.  And with ducks being inherently messy, I know I wont miss the extra cleaning once they are gone.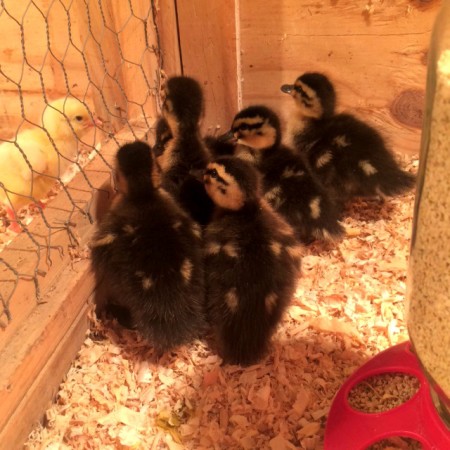 This is only our first order. We will be ordering more laying hens (we have some old non-layers that need to be culled this year. No free loading on this farm.) and a few turkeys (another first) in a few weeks. Our brooder is not big enough for all of the birds and we also don't have enough coops/free range area for all at once.
If you are interested in raising your own birds, check out this post on how to prepare for the arrival of your chicks!