It's zucchini time!
If you have ever grown zucchini, you know just one plant can produce a ton of zucchini and those suckers can grow BIG, seemingly, overnight.
What do you do when you've had your fill of zucchini bread (<– that's a great recipe by the way), muffins, and cake (is that even possible?) or just want to try something new?
When it comes to preserving zucchini, there are not many options. Because of the high water content in zucchini, it gets mushy when thawed so freezing your "zoodles" is out of the question. Shredded zucchini freezes nicely and so does cubed/diced zucchini (best used in soups/casseroles when thawed) but if you want to try something different and fun, Pineapple Zucchini is a great option!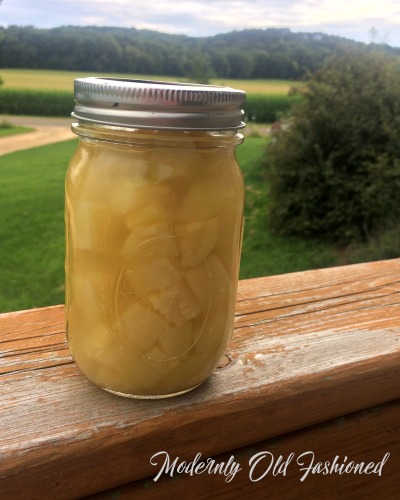 Yes, this REALLY does taste just like pineapple! You could fool even the pickiest of eaters, trust me- I have! My kids love this stuff and they know exactly what it is (God blessed me with three non-picky eaters) but my dad despises zucchini. He's eaten it, none the wiser (patting myself on the back…).
Preparing your zucchini for this recipe couldn't be easier, just peel, remove large seeds (they do not fare well in the texture department with this recipe) and cut to your desired pineapple style. Cube/dice your zucchini for "chunk" style pineapple or shred for "crushed" style.
Yellow summer squash and green summer squash (zucchini) can be used interchangeably in this Pineapple Zucchini recipe.
That's it! Cook in a pineapple juice mixture and can. It's a very simple recipe. This last batch I ended up dicing 12 cups of zucchini which yielded 5 pints of canned pineapple zucchini (I had plenty of extra pineapple juice mix for more zucchini).
There, another way to preserve your summer bounty and enjoy it all year long!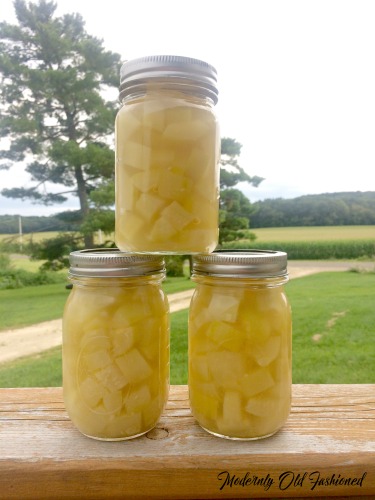 Pineapple Zucchini
4-5 quarts cubed or shredded zucchini
46 oz. canned unsweetened pineapple juice
1 1/2 cups bottled lemon juice
2 1/2 cups sugar
pint or quart canning jars, lids, rings
water bath canner
Prepare canning jars, fill and start heating up water bath canner.
After peeling, removing seeds, and cutting the zucchini to your desired style (shredded= crushed pineapple, diced= chunk), set it to the side and prepare the juice mixture.
In a large pot, combine pineapple juice, lemon juice, and sugar. Stir until completely mixed. Add zucchini and bring to a boil. Simmer for 20 minutes.
Fill your hot, clean canning jars with the zucchini, adding liquid to reach 1/2 inch headspace. Place and tighten lids/bands.
Can in water bath canner for 15 minutes (*reminder= start timing after adding jars and water has reached a boil) . Remove and let sit until cooled and all lids have "pinged"- can take up to 24 hours. Remove rings, label and store.